Due to skills shortages, technology, engineering, and maths graduates are in high demand, and more must be done to rectify the gender imbalance among students of these subjects
Subjects studied
Architecture and building
Civil engineering
Electrical and electronic engineering
IT
Maths
Mechanical engineering
Number of graduates
According to Destinations of Leavers from Higher Education (DLHE) data, there were 35,975 UK technology, engineering, and maths graduates in the year 2016/17, making up over 10% of that year's total graduating cohort.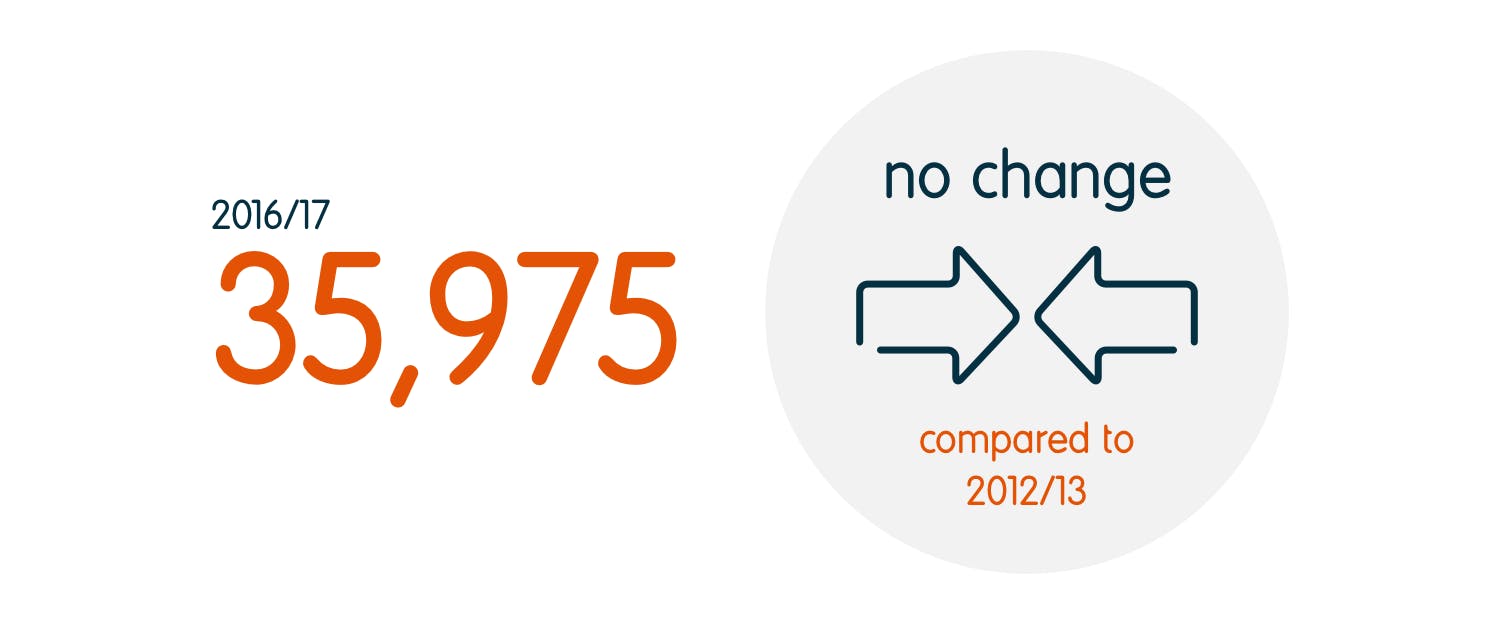 Gender
Despite a number of high-profile campaigns to encourage more females into science, technology, engineering and maths (STEM) subjects, and regardless of the fact that in general there are more females in higher education than males, there's still a significant disparity in the number of females engaging in these subjects.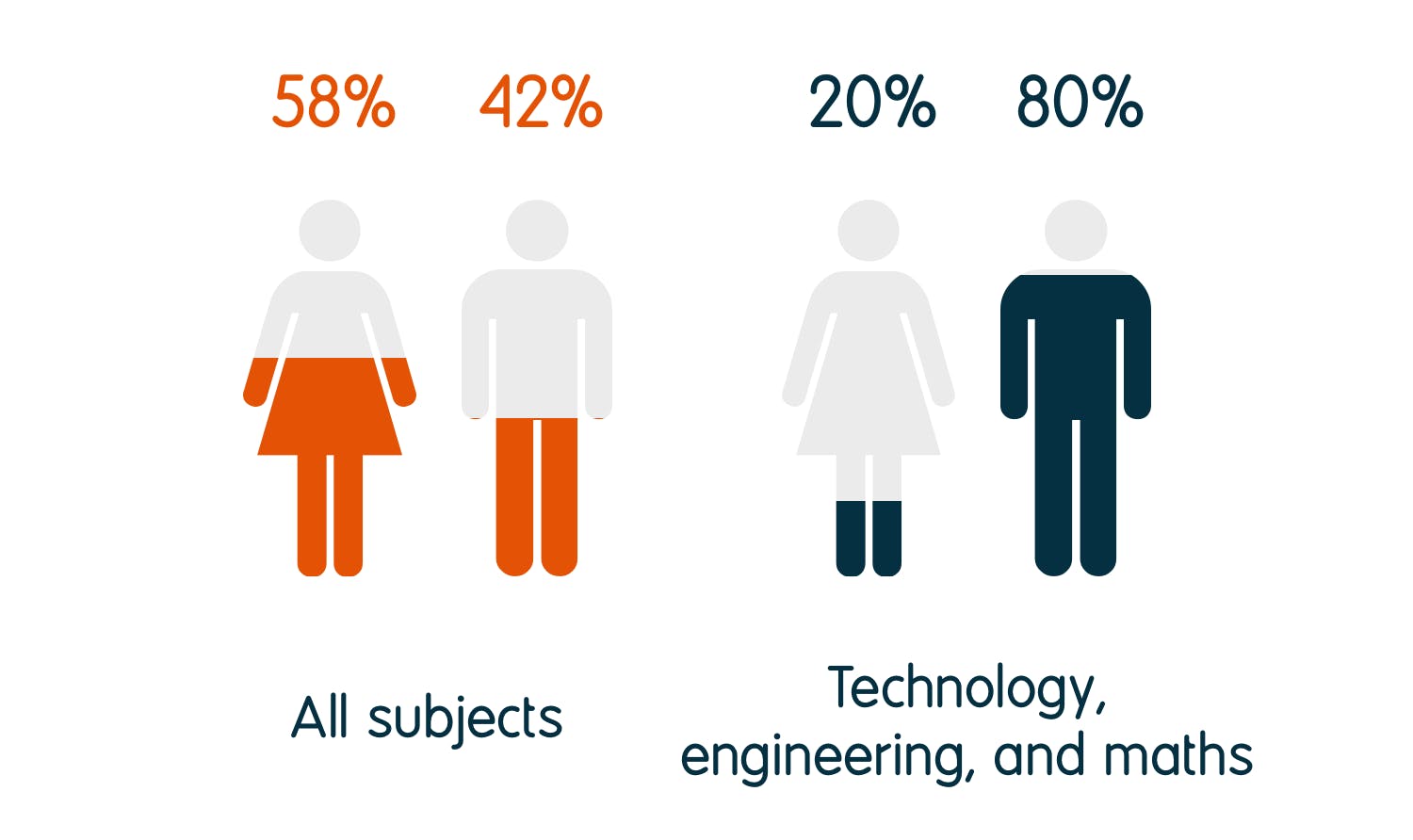 While technology, engineering, and maths make up around 10% of the graduate population, they make up only 4% of all female graduates.
Although this male majority is evidenced across technology, engineering, and maths subjects, disparities within specific subjects vary. For example, the ratio of male to female maths graduates is 60:40, whereas in mechanical engineering - the subject with the widest gender gap - it is 90:10.
This being said, campaigns aiming to rectify this imbalance take time and there does appear to have been some marginal improvement. While females made up only 11% of the graduate respondents from engineering courses, the percentage of females currently studying engineering subjects in 2016/17 was nearly 18%.
Nevertheless, industry, government and education still need to do much more to increase the number of females taking part in STEM learning to help fill the growing skills gap.
Employment rate
The employment rate (full time and part time) for technology, engineering, and maths graduates is slightly higher than that for all graduates at 75.5% versus 74.3%.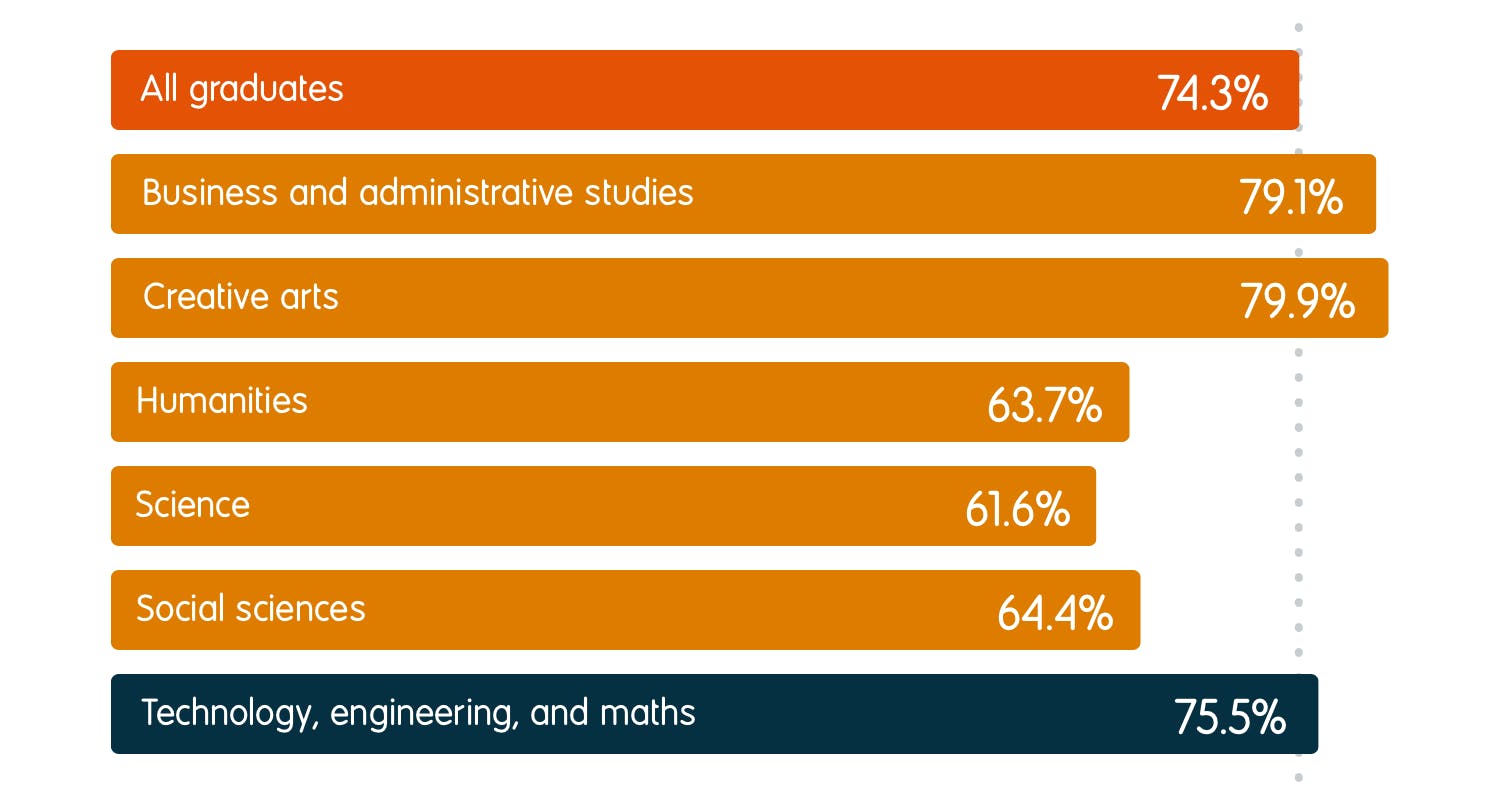 Subjects that make up technology, engineering, and maths are mainly vocational. Subject tuition is more aligned with employer expectations and therefore graduates should leave with the skills and knowledge to enter specific employment pathways.
This was a result of the Wakeham Review, which recommended greater collaboration between industry and educators.1 As well as the introduction of degree apprenticeships, more engineering degree courses are being sponsored by, or aligned to, particular employers.
Full-time employment specifically enjoys high rates among most technology, engineering, and maths subjects:
Architecture and building studies - 70.3%
Civil engineering - 69.3%
Electrical and electronic engineering - 66.6%
IT - 64%
Mechanical engineering - 63.9%
These are well above the average full-time employment rate for all graduates (55.2%). Maths was the only subject to have lower than average full-time employment outcomes at 47.6%, mainly due to larger proportions of maths graduates pursuing further study.
Top five occupations
Information technology
Engineering and building
Business, HR, and finance
Technicians and other professionals
Retail, catering, and bar staff
Trends in employment vary between specific degree subjects in this group. Overwhelmingly, IT graduates who were working went into roles as IT professionals (63.1%). Maths graduates tended to secure employment as business, human resources (HR) and finance professionals (41.9%) and IT professionals (12%).
The actual job sectors maths graduates went into were more diverse with no obvious front runner. The three most popular sectors were general business professionals (8.7%), finance and investment analysts/advisers (8.1%) and programmers and software developers (7.3%).
For graduates from architecture and building studies, the outcomes were split between engineering and building professionals (46.1%) and other professionals, associate professionals and technicians (24.8%).
Looking at popular sectors, it might seem surprising that architect (7.5%) is the fourth most popular occupation behind architectural and town planning technicians (21.4%), quantity surveyors (17.2%) and chartered surveyors (8.4%).
Unsurprisingly, many engineering graduates were employed as engineering and building professionals. This was particularly true for civil engineering graduates (74.8%). There was some difference with electrical and electronic engineering graduates, with only 41.3% going on to become engineering and building professionals. A significant proportion (20.2%) went on to become IT professionals.
Average starting salaries
The starting salary range for graduates from technology, engineering, and maths subjects was quite wide, ranging from £18,250 to £31,300. The highest salaries are in IT, largely due to a shortage of qualified graduates available to fill these rolls.
The lowest salaries are in architecture and building studies because graduates generally have to secure technician-level roles while they build a portfolio or progress through steps to professional registration.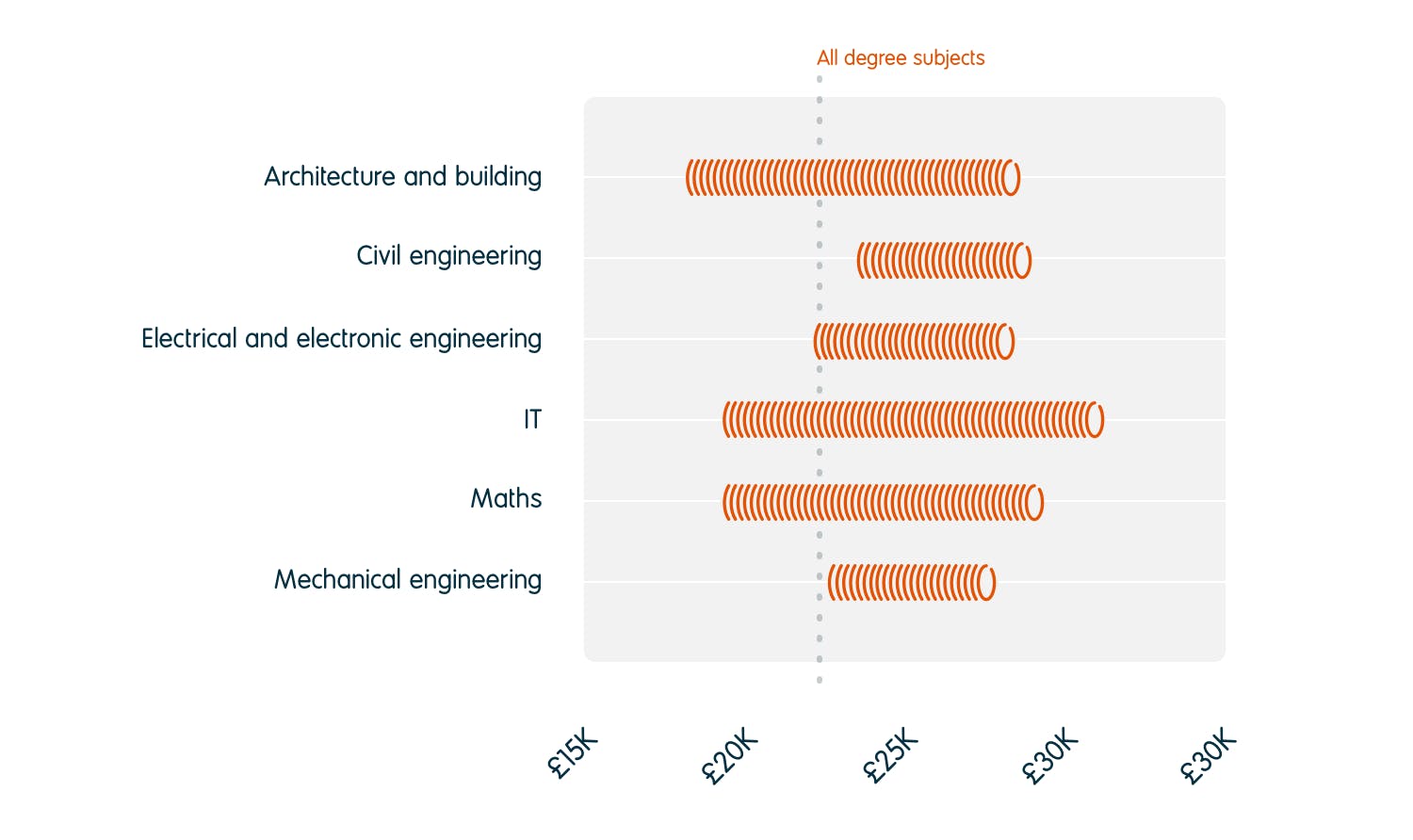 The salary range suggests that most technology, engineering, and maths graduates will start above the average full-time graduate salary of around £21,000.
Working abroad
Generally, UK graduates aren't particularly mobile in the early stages of their career with only 1.8% working overseas after they graduate. There isn't any significant difference for graduates from technology, engineering and maths subjects.
The Gone International: mobility works publication states that while the percentage of students spending time abroad as part of their undergraduate studies has risen, it still remained low at 7.4% for students graduating in 2014/15.2 The report suggests a significant barrier is language - including the lack of language teaching in schools and options for continuing language learning at university.
Unemployment rate
With an ongoing shortage of skilled engineers and IT professionals, it's puzzling to see unemployment still high for graduates from technology, engineering, and maths.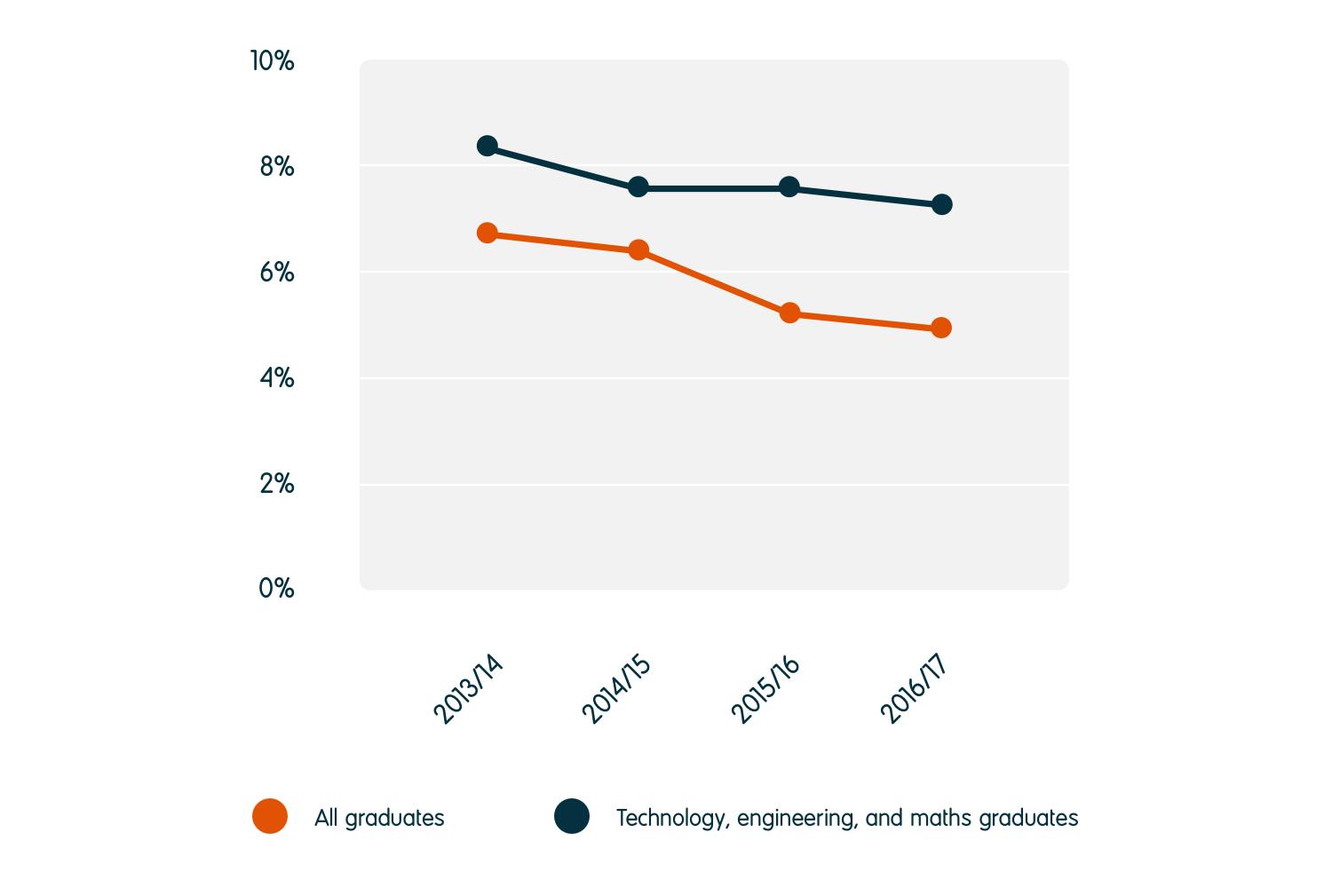 Only civil engineering (4.8%) and architecture and building studies (4.9%) were below the average for the whole graduate cohort (5.1%). While unemployment is down in most subjects compared to last year's levels, it is still very high in IT (9.4%) and maths (7.5%).
One explanation could be raised expectations. Looking at the data for employment outcomes, the percentage of graduates going into non-professional roles such as hospitality and retail are quite small. Other subjects reporting lower than average unemployment saw more graduates going into these sectors. It could be that the expectation of getting a degree-related professional job on graduation means that graduates are more likely to remain unemployed while seeking that role.
Further study
Compared with all graduates, a lower proportion of technology, engineering, and maths graduates enter further study.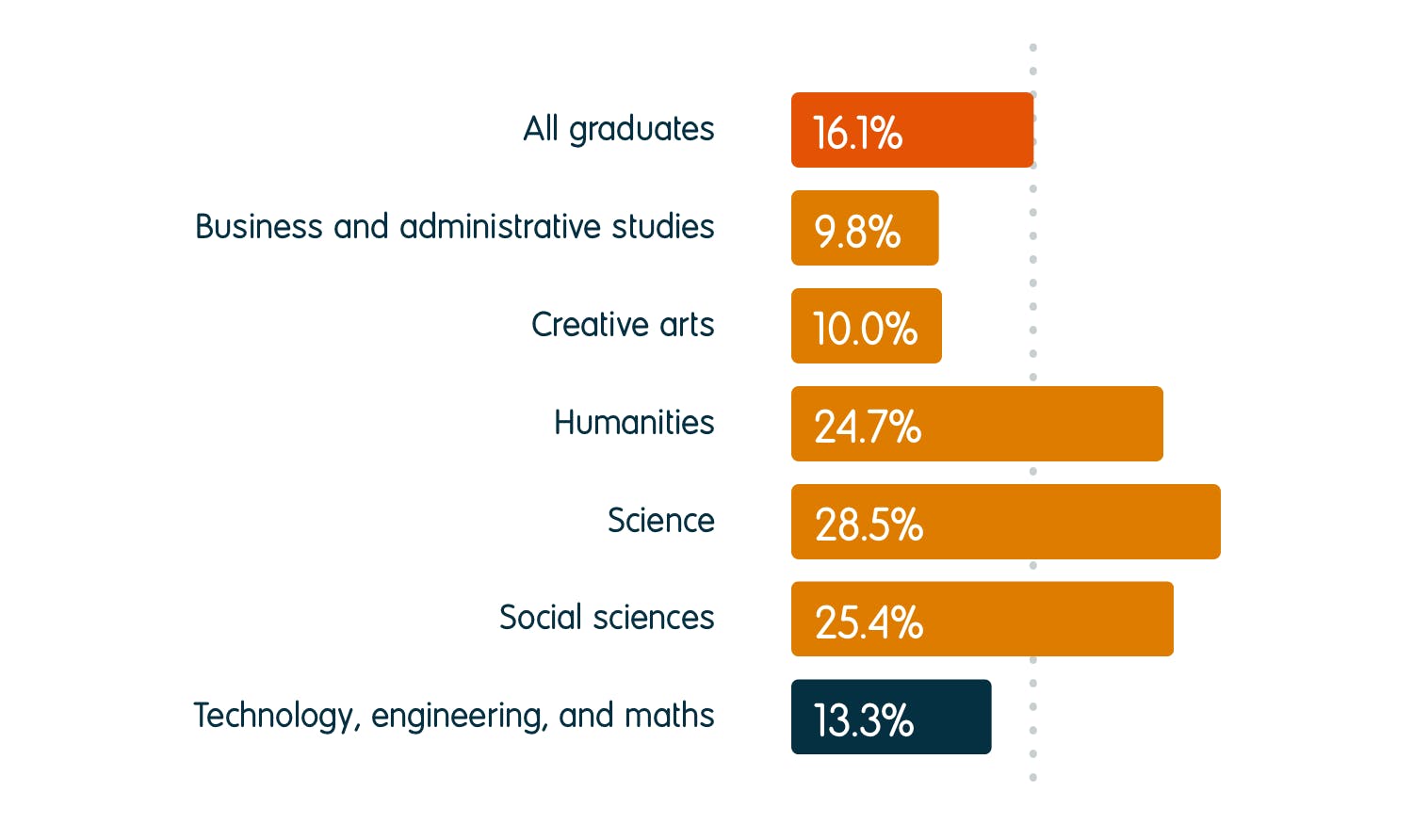 Usually, 10% of graduates from these subjects undertake further study. Maths is the exception, however, with 25% of graduates choosing this path. Architecture and building studies has the lowest proportion of graduates entering further study with only 7.3%.
Further study is often motivated by a desire to specialise in order to be more employable or to begin a career in research. Graduates that do go on to further study predominantly do so at Masters level, which suggests they are seeking very specific vocational courses leading to particular jobs. IT, for example, had a lot of graduates studying Masters courses such as cyber security and games design.
Working and studying across these subjects remains quite low in comparison to the average for the whole graduate cohort. Engineering graduates are much less likely to go on to formal study alongside work due to the rise in integrated Masters courses that enable them to apply for chartered status earlier in their career.
Maths has the highest percentage of graduates working and studying (5.2%) and this is due to the relatively high numbers progressing to roles in finance that require further professional qualifications, such as accountancy.
Value to the labour market
Technology, engineering, and mathematics are considered a significant element of the government's industrial strategy for the UK.3 Skills shortages in these areas mean that graduates are in high demand, with a lot to offer the market.
Degree courses in these subjects are often designed with input from potential employers, with increasing opportunities for students to experience a year in industry. Data from HESA shows that around a quarter of all students enrolled on an engineering degree are planning to include a year in industry, are already on a year in industry or have completed a year in industry.4 This means that not only are graduates knowledgeable in their respective subject areas, but they are well-prepared for employment, with the skills and experience necessary for them to make a contribution once in employment already under their belt.
According to a recent report entitled Helping the UK Thrive, businesses believe that technology, engineering, and maths subjects are important and that graduates in these areas have valuable skills on offer.5 Consequently, these graduates are experiencing increasing opportunities on completing their degree.
Get an accessible version of the infographic data (PDF, 288KB).
Also in this series
Notes
Thank you for your feedback