Social science students learn an extensive range of skills that are transferable to a variety of professions not necessarily connected to their degree subjects
Subjects studied
Geography
Law
Politics
Psychology
Sociology
Number of social science graduates
In the academic year 2016/17, a total of 44,550 UK students graduated with social science degrees, up from previous years. UCAS reported a rise of accepted offers of 4.5% for law and 2.7% for social studies during 2017.1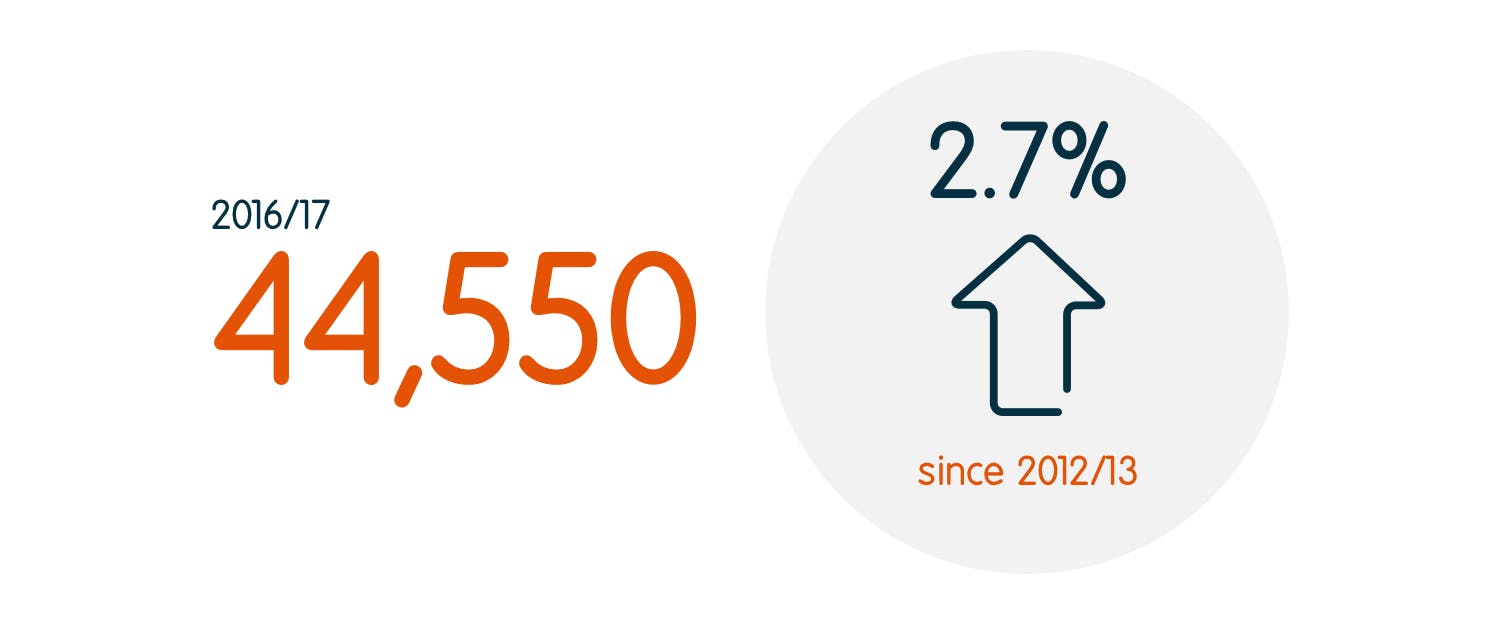 Gender
The Destinations of Leavers from Higher Education (DLHE) data reflects a persistent gender imbalance within the social sciences, which has been widely documented.2 More females were enrolled than males in geography, sociology, psychology and law disciplines in 2016/17. Politics proved the exception, with more males than females.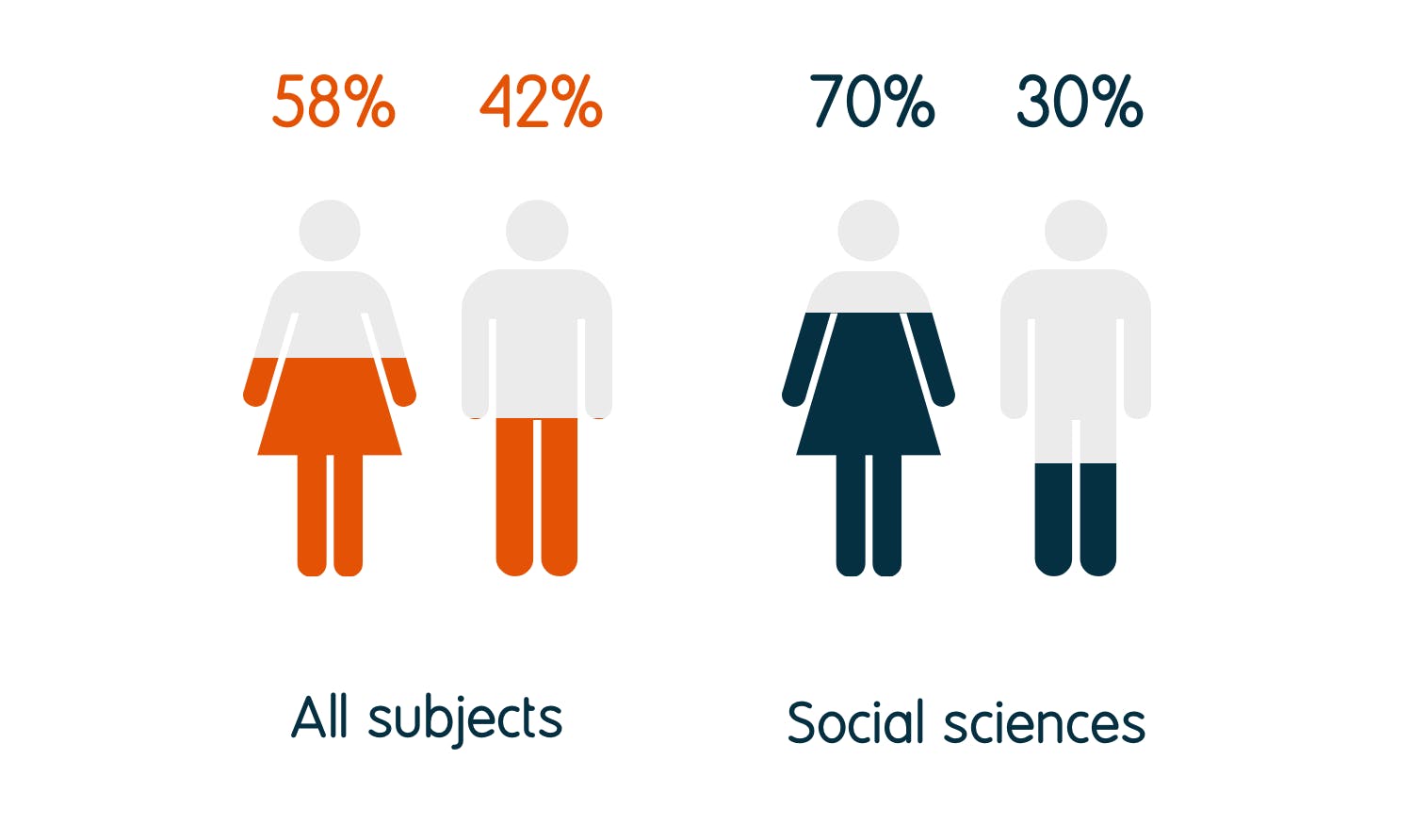 The impact of gender stereotyping, meaning that females prefer care-giving roles, is clear in the social sciences, which are primarily about society and human relationships.3 The exception within politics is potentially due to the visible gender imbalance in British politics, with females making up only 26% of cabinet ministers and 32% of MPs.4
Employment rate
While graduate employability has a permanent position under the national spotlight, attention is beginning to focus on graduate outcomes at disciplinary level. With eyebrow-raising media articles such as 'The degrees that make you rich… and the ones that don't', questions are being asked about the inequalities that graduates face due to the subjects they study.5
The social sciences haven't escaped scrutiny. According to 2016/17 DLHE data, those graduating with a degree in this area were less likely than graduates as a whole to be in employment.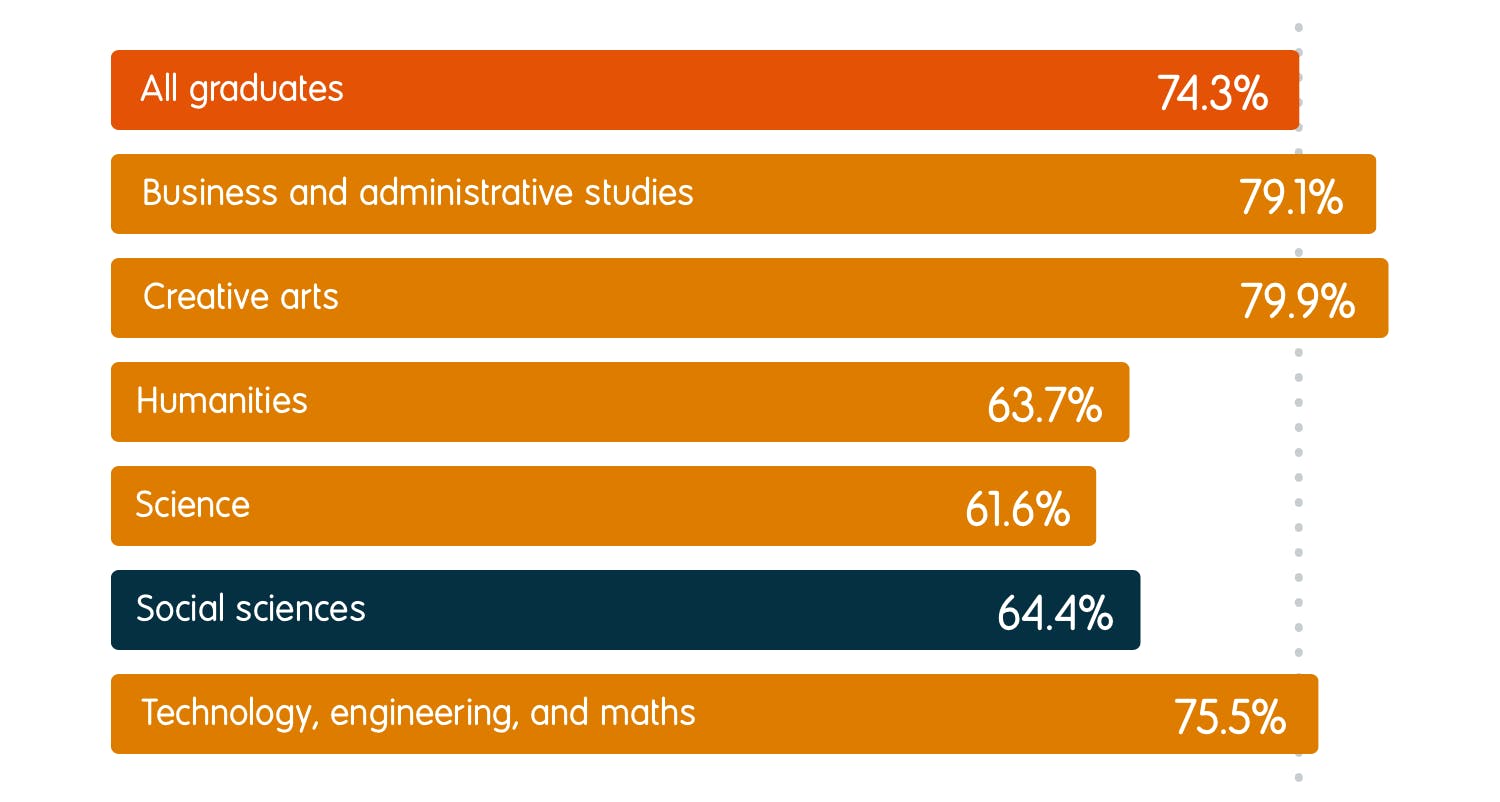 Many choose alternatives to full-time work six months after graduation. This trend has existed since 2012, as social science graduates increasingly postpone full-time work in order to study at higher levels.
Top five occupations
Legal, social, and welfare
Retail, catering, and bar staff,
Business, HR, and finance
Numerical, clerical, and secretarial work
Childcare, health and education
Those who do enter the workforce often find themselves in professions unrelated to their specific degree subject. This is partly because of the non-vocational nature of social science degrees.
Research by HEFCE proposes an 'Occupational Subject-Concentration-Ratio' (OSCR), based on the analysis of how many graduates from a subject gain employment in three occupations most commonly associated with the subject.6
Medicine and dentistry gain an OSCR score of 0.99, meaning it's extremely likely the degree will lead into one of three occupations. Politics, social sciences and psychology come out at around 0.13, indicating they are not vocational in the sense that graduates go into a vast range of diverse professions.
Interestingly, law comes out at 0.3. Despite common assumptions, very few law students go into law careers,7 very few psychology graduates become psychologists,8 and very few politics students work within parliament.9
In fact, geography and politics students are almost twice as likely than average to go into business, HR and finance roles or marketing, PR and sales.
Average starting salaries
Institute for Fiscal Studies (IFS) data reflects differences in short and long-term earnings across the social sciences. Some disciplines such as business, economics and law attract very high salaries where others remain stubbornly towards the bottom of the scale.10
More vocational subjects are associated with higher early career earnings and graduates in more vocational subjects are more likely to be employed in highly skilled roles.
According to DLHE data, average starting salaries across the social sciences in 2016/17 ranged from £17,000 to £25,000, with the highest salary of £25,000 sitting within law and politics. The lowest salary range was for psychology and sociology graduates.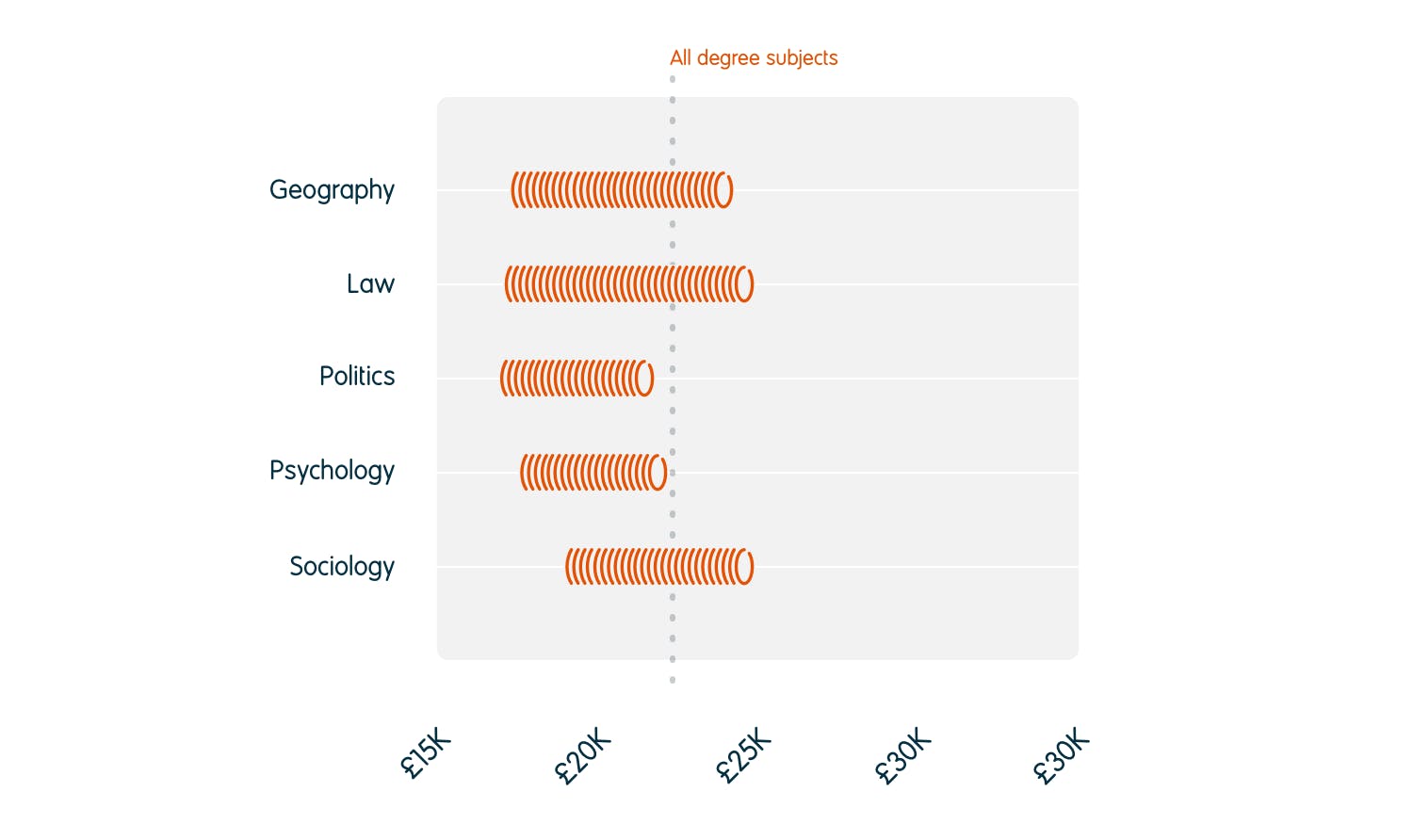 Working abroad
Geography and politics graduates were most likely out of the social sciences to be working overseas (3.1% compared to an average of 1.8%). This probably results from the international perspective of these subjects and/or their frequent combination with subjects such as international relations.
Unemployment rate
On average, the unemployment rate of social science graduates was similar to that of graduates in general.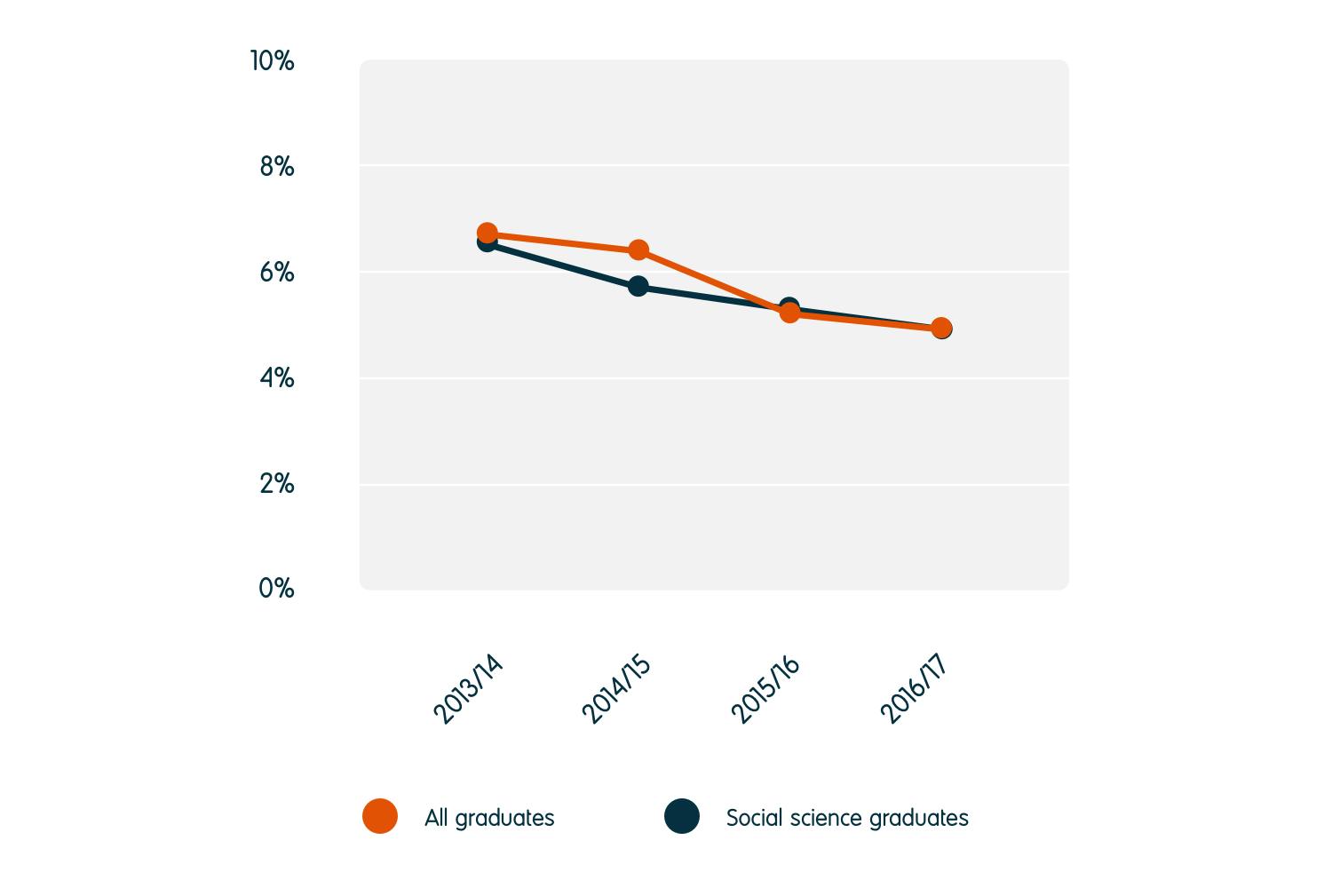 Looking at specific subjects within this area reveals a slightly different picture, however.
Sociology, politics and geography graduates were all slightly more likely than average to be unemployed. A number of discipline-specific investigations suggest that this may be a historical problem - probably linked to the broad nature of the discipline - leading to students struggling to relate degree content to employment options.11
Given the number of employment sectors a graduate might enter, social science graduates may take longer than graduates from more vocational disciplines to explore and secure opportunities.
Law, on the other hand, had a lower than average percentage of unemployed graduates (4.4% compared to an average of 5.1%), perhaps due to the particularly high progression into further study among these graduates (32.8% compared to an average of 16.1%). Given the level of competition, with roughly 30,000 students starting a law degree annually and only approximately 5,500 training contracts, law graduates must be successfully securing alternate employment.12
Further study
DLHE data reveals that social science graduates were more likely than average to continue studying - either full time or alongside working.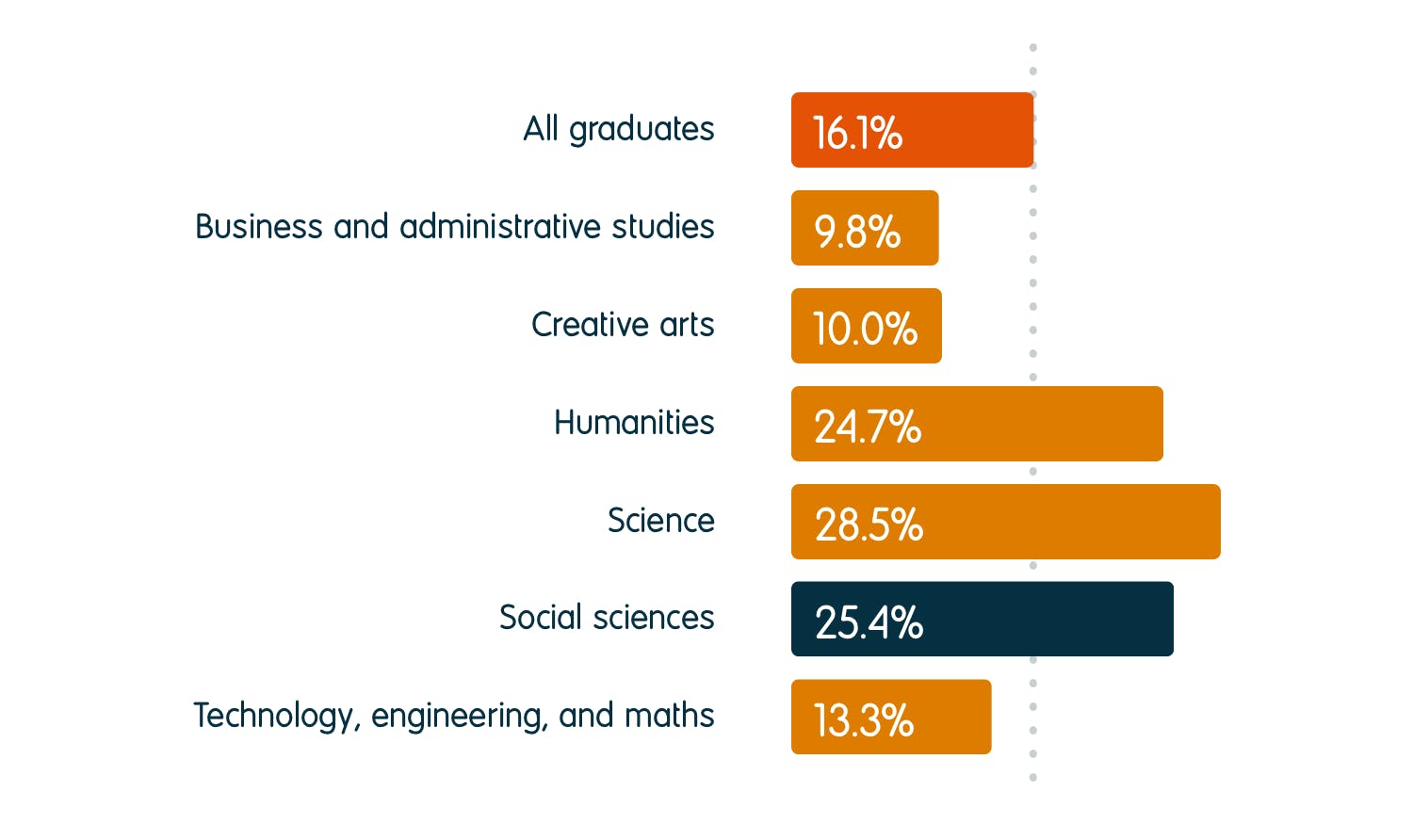 This figure has been growing since 2012, and at a more rapid pace than in other disciplines, probably due to the introduction of the postgraduate loan in 2016/17.
The non-vocational nature of the social sciences is also likely to be a contributory factor here, with the lack of clear occupational routes making decision-making more challenging and further study more appealing to students.
Of all social science disciplines, law had the highest proportion of graduates entering further study (32.8%) - much higher than the average across all subjects (16.1%).
Generally, social science graduates going on to further study did so at Masters level, although law graduates were again different in that they were more likely to opt for diplomas or professional qualifications, as a law degree on its own does not qualify students to practise law.
Value to the labour market
Social science students have a lot to offer the labour market. The 2017 British Academy report The Right Skills: Celebrating Skills in the Arts, Humanities and Social Sciences (AHSS) highlighted social science degrees as bestowing graduates with an extensive range of transferable skills, making them flexible and able to adapt to a broad range of professions that may not be obviously connected to their degree.13
The report emphasised leadership as one such skill, with 44% of global leaders and 20.4% of successful Civil Service Fast Stream candidates being social science graduates.
It also points to the important role that social sciences graduates play in the UK's service-led economy, despite their roles not always providing the highest salaries in the years immediately after graduation.
The introduction of HESA's Graduate Outcomes data will provide a useful insight into longer-term outcomes for social science graduates.
Get an accessible version of the infographic data (PDF, 288KB).
Also in this series
Notes
End of Cycle Report, UCAS, 2017.
Ibid.
Drawing for the future, Cascaid, 2018.
Britain needs gender equality quotas now, Fawcett Society says, The Guardian, 2018.
Vocational degrees and employment outcomes, HEFCE, 2018.
Careers with a law degree, All About Law, 2016.
BPS Career Destinations (Phase 3) Survey 2016 Report, The British Psychological Society, 2017.
Implementing the Employability Agenda: A Critical View of Curriculum Developments in Political Science and International Relations in English Universities, D. Lee., E. Foster., and H. Snaith., 2014.
How English-domiciled graduate earnings vary with gender, institution attended, subject and socio-economic background, Institute for Fiscal Studies, 2016.
Implementing the Employability Agenda, 2014.
All About Law, 2016.
The Right Skills: Celebrating Skills in the Arts, Humanities and Social Sciences (AHSS), The British Academy, 2017.
Thank you for your feedback