Further study is a popular destination for science graduates, but the skills shortage in STEM remains one of the most pressing issues facing the UK economy
Subjects studied
Biology
Chemistry
Physical and geographical sciences
Physics
Sports science
Number of science graduates
The 2016/17 Destinations of Leavers of Higher Education (DLHE) data shows that science maintained its share of the overall graduate population, at around 8.1%. However, this figure masks individual differences. Sports science, and physical and geographical sciences, experienced above average reductions in student numbers compared with the previous year's figures.
As a positive development, though, there were above average rises in the number of students studying biology, chemistry, and physics courses.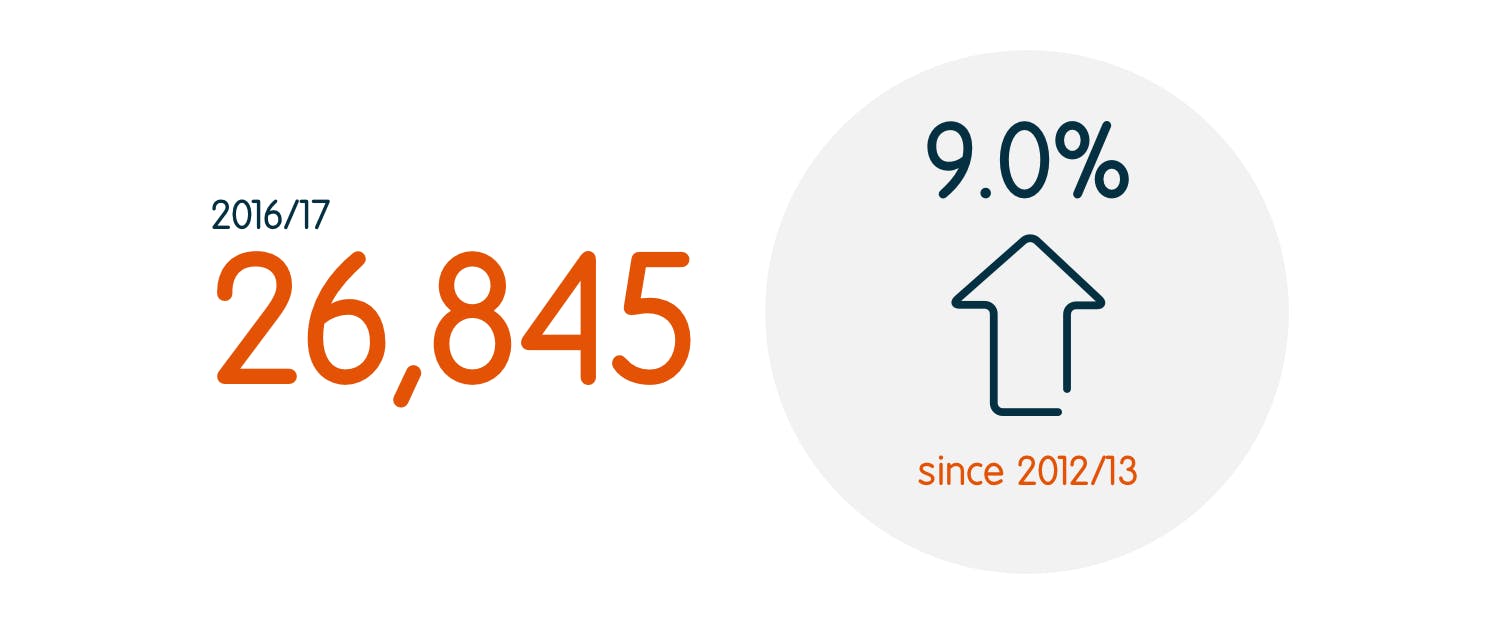 Gender
There is underrepresentation of girls and women in most science, technology, engineering and maths (STEM) subject areas at every level - biology being one exception to this. For example, although girls represented 61.8% of A-level entries in biology in 2016/17, the figure was only 21.2% in physics.1
This trend is also reflected in the DLHE statistics, where females were more likely to take courses in biological sciences, while male students were more likely to study physics, chemistry, and sports sciences.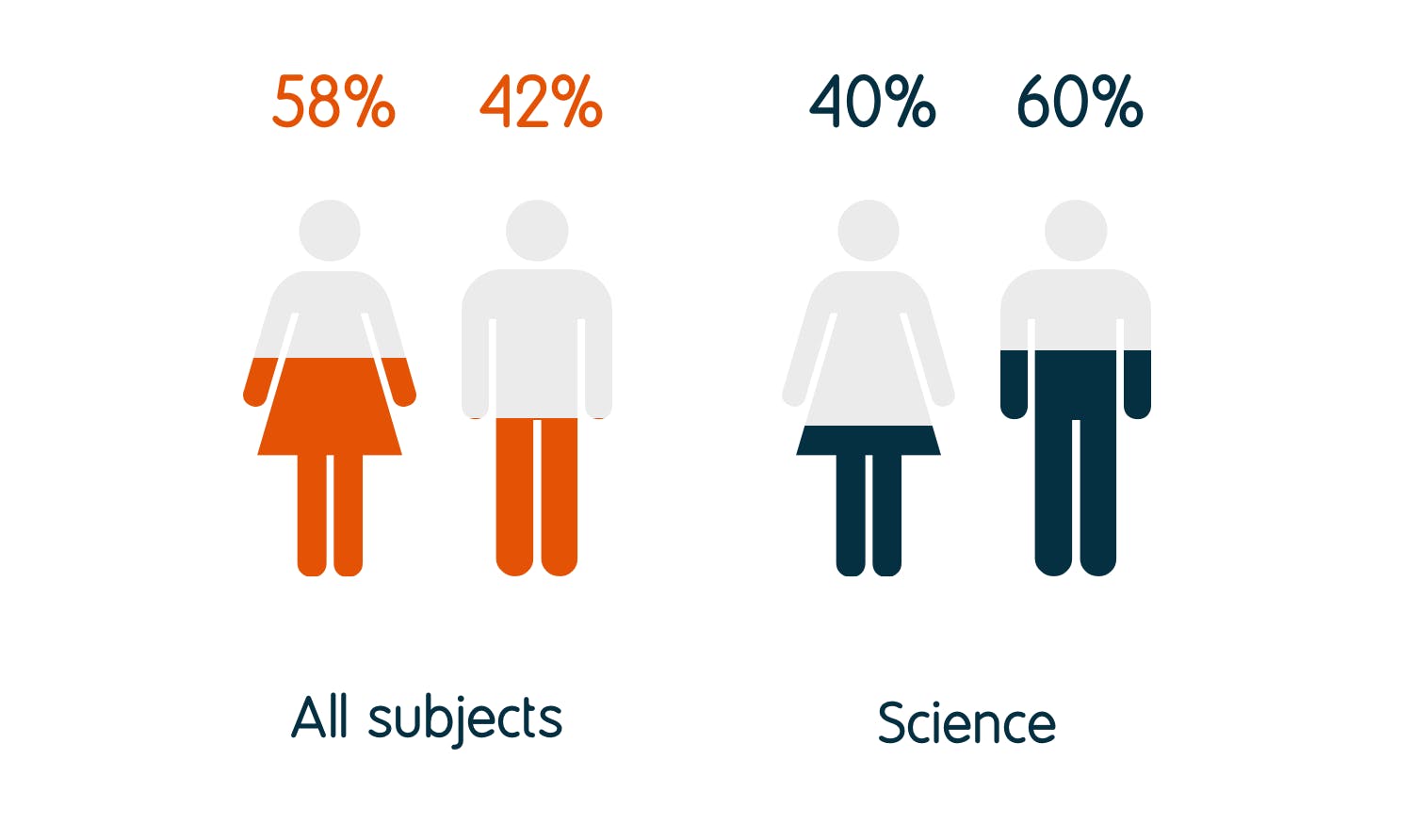 Encouraging more school pupils to embrace science and reducing the gender gap within science and care-related roles are challenging problems. Gender differences were identified in DLHE. Female science graduates were more likely to choose care-related careers in health (27.7% of females compared with just 9.2% of males), education, legal, and social and welfare. Males were more likely to choose roles in science, engineering and building, business and finance, and IT.
A number of reasons are cited for this, including gender stereotyping. A reduction in the quantity and quality of careers advice in schools has been highlighted as a potential factor, perpetuating misconceptions about STEM careers.2 Organisations such as WISE and the NHS are working to improve these figures and promote gender equality in science and care-related roles.3
An 8% increase in women in STEM has been achieved over the past year.4 Although this is a step in the right direction, there's still a long way to go to achieve parity - seen starkly by the fact that only 8% of STEM apprenticeships are undertaken by girls and women.5
Employment rate
Science graduates were more likely to pursue further study than the overall graduate population and for this reason have lower rates of full-time employment on leaving university (ranging from 35.5% to 44.2%) compared with the overall average (55.2%).
Science graduates also had the lowest employment rate compared with graduates from other disciplines.
Top five occupations
Technicians and other professionals
Retail, catering, and bar staff
Business, HR, and finance
Education professionals
Marketing, PR, and sales
The Royal Society of Chemistry, the Royal Society of Biology and the Institute of Physics websites all include sections highlighting the array of careers available within their disciplines.
Despite the opportunities available, only a relatively small percentage of science graduates become science professionals within six months of graduation. This may be linked to the relatively small number of large scientific employers offering targeted recruitment and training for graduates, and to the increased importance of postgraduate qualifications as entry requirements.
Chemistry led the way with almost 17% of employed graduates working as science professionals, the majority (11% of all their employed graduates) as chemists or chemical scientists. As expected, large numbers of sports science graduates (almost 18%) became sports coaches, fitness instructors or officials.
Around 9% of biology graduates entered employment as science professionals. However, as a high proportion of research and development is taking place in small and medium-sized enterprises (SMEs), which do not have the ability to recruit and train graduates in the same way as larger companies, many biology and chemistry graduates (approximately 10%) started their careers as science technicians.
The skills developed while studying science are highly sought after by a wide range of professions, and significant numbers of graduates start professional roles in areas other than science. A high percentage of graduates become business, human resources (HR), and finance professionals instead of pursuing a career in science.
Approximately 21% of physics graduates, 18% of physical and geographical science graduates, and 16% of chemists chose this option. More than 21% of physics graduates became information technology (IT) professionals in roles such as programmers and software developers, IT business analysts, architects and systems designers, and general and niche IT and telecoms professionals.
Average starting salaries
Salary information should only be used as a very rough guide to outcomes. The current DLHE survey is conducted only six months after graduation, when graduates are often in lower-paid positions with a view to gaining the experience they require to progress in their chosen career. The use of data from the Longitudinal Education Outcomes (LEO) dataset may provide a better comparison of salary development on a longitudinal basis.6
The salary range provided by respondents is understandably broad across the disciplines, but has seen an increase across the sector on previous year's figures.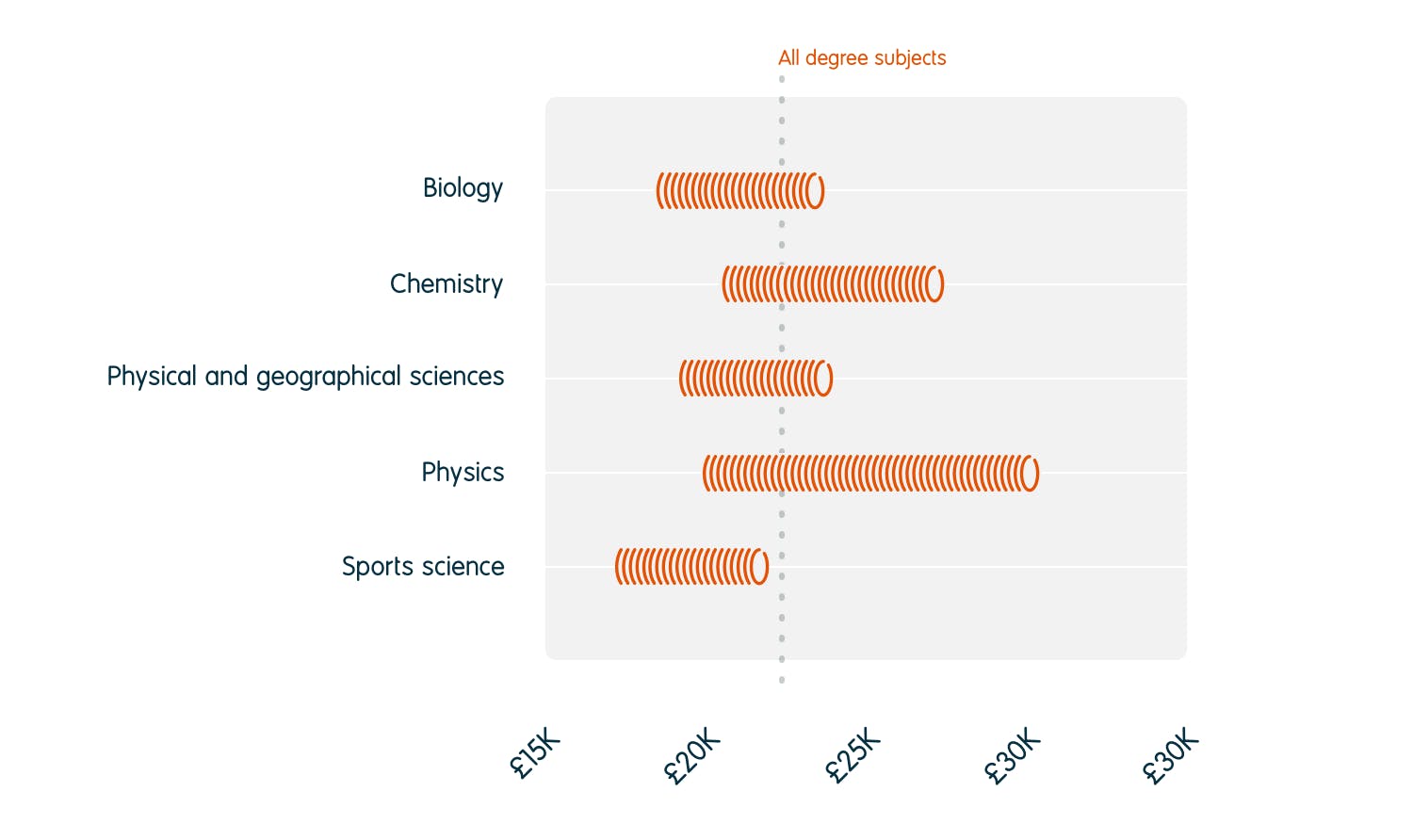 The lowest starting salaries across the sciences ranged from £17,200 to £20,500. The highest salaries were seen for chemistry and physics graduates (at £27,500 and £30,500 respectively). Physics graduates were overall the best paid, reflecting the high numbers who enter employment as IT professionals and business, HR, and finance professionals.
Unemployment rate
Compared with the previous year's figures, unemployment rates have again reduced, with above average reductions in all areas other than sports science.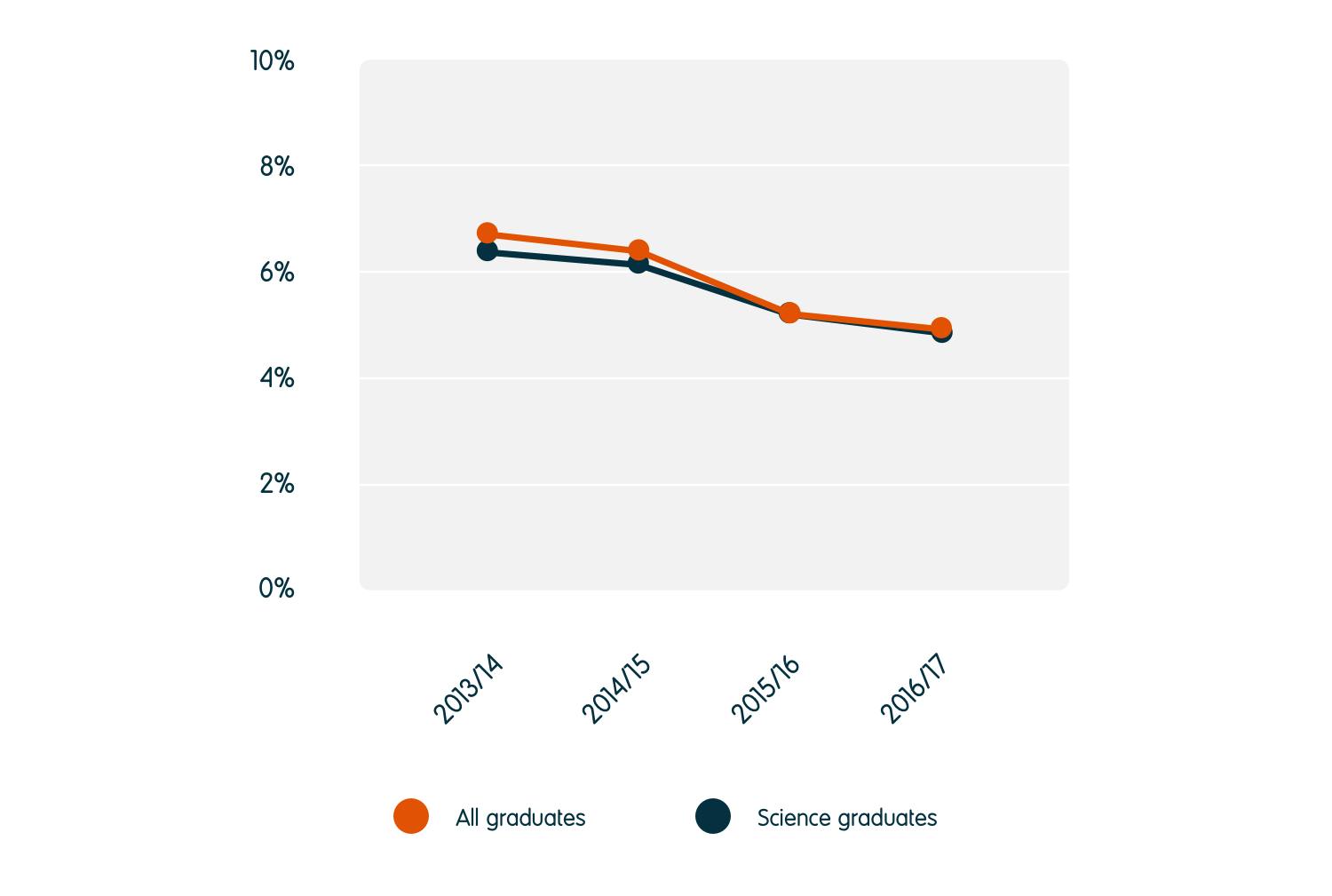 However, unemployment levels remain higher than the overall graduate population in biology, chemistry and physics, potentially linked to demands by science-based employers for higher-level qualifications7 and work experience.8
More than a third of recruiters who took part in the High Fliers The Graduate Labour Market in 2018 report warned that graduates with no previous work experience have little or no chance of receiving a job offer for their organisations' graduate programmes.9
Further study
The proportion of students progressing into postgraduate study increased across all areas of science. The greatest increases were seen in the uptake of Masters-level study, most likely attributed to the recent introduction of the postgraduate loans scheme.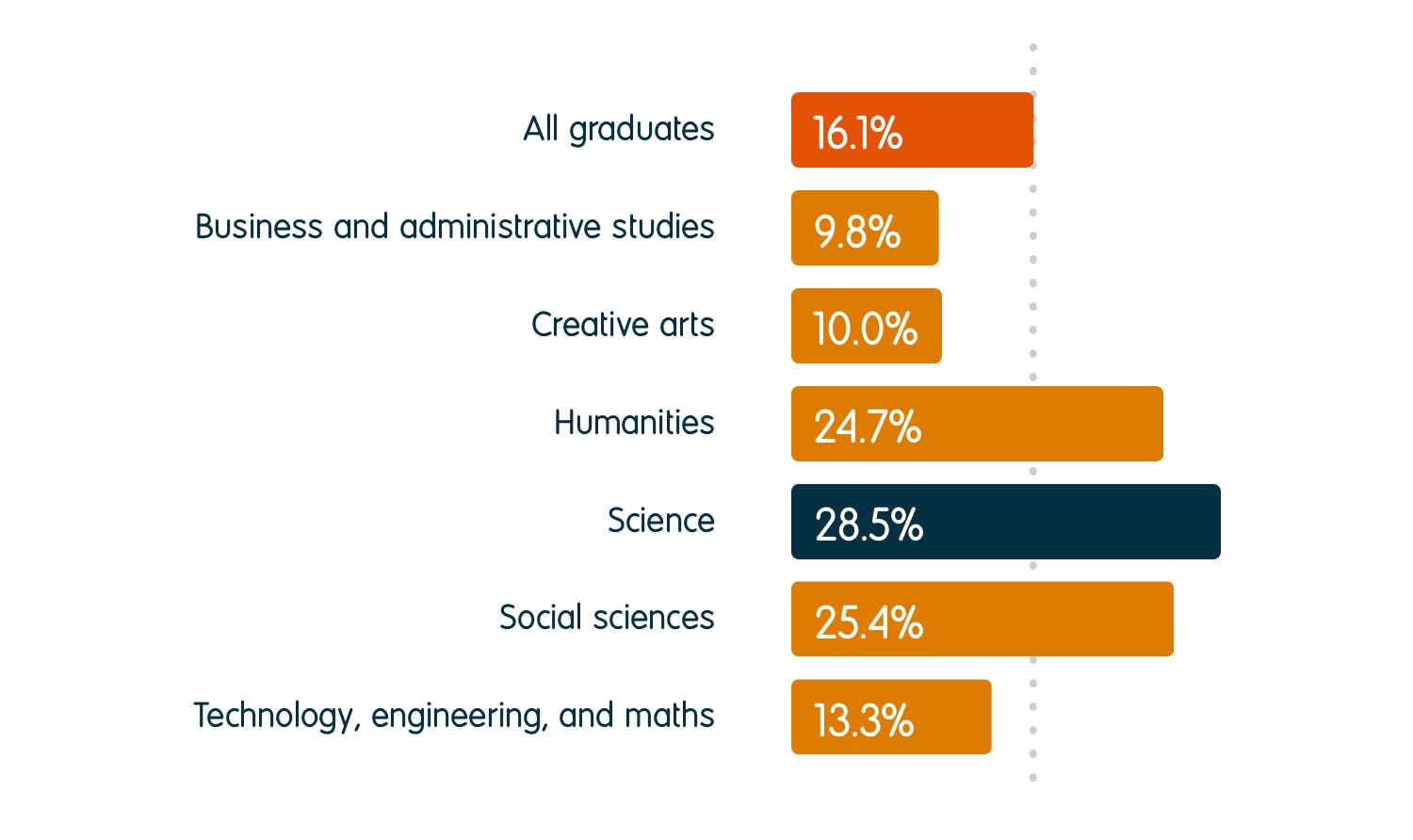 Chemistry, physics and biology graduates in particular chose this option, with double the national average progressing on to further study, perhaps highlighting the perceived demands of science employers for graduates with higher-level qualifications.
In fact, 90% of employers from science, engineering and high-tech companies who took part in the CBI/Pearson Education and Skills Survey believed they would be looking to employ people with higher-level skills.10
High numbers of chemistry and physics graduates opted for extended study at PhD level, with more than half in further study opting for this compared with the national average of around 11%.
Despite the substantial bursaries offered for students to train to teach secondary school biology, chemistry, physics and geography, student uptake of postgraduate qualifications in these areas was lower than the national average. However, sports science students were the most likely to choose a postgraduate qualification in education. This is unsurprising given the well-known progression route to teaching for this subject area.
Value to the labour market
The UK government sees STEM skills as crucial for the country's productivity. It has spent almost £1billion over the last ten years on initiatives to encourage the uptake of STEM subjects.11
Despite this, shortages of technical-level skills in sectors that depend on STEM subjects have been identified.12 These skills shortages have been described by the government as 'one of our key economic problems' and with the exit from the European Union on the horizon, there are worries that these problems could be exacerbated.'13
There's a definite need for STEM skills and graduates. The House of Commons Committee of Public Accounts has recommended that 'the Department for Education should make better use of data on career destinations and salaries to incentivise young people to work towards careers in particular STEM sectors where there is higher need'.14
In subsequent years, students will be surveyed 15 months after graduation. This may give us a better understanding of the career development of science graduates and measures of success based on students' own perception of achievement, which could be used to highlight the long-term benefits of a science degree and promote STEM subjects to potential students.15
Get an accessible version of the infographic data (PDF, 288KB).
Also in this series
Notes
Delivering STEM skills for the economy, House of Commons Committee of Public Accounts, 2018.
Ibid.
WISE; More male care workers needed, says providers' chief, BBC, 2015.
Annual Report, WISE, 2018.
House of Commons Committee of Public Accounts, 2018.
Employment and Earnings Outcomes of Higher Education Graduates: Experimental data from the Longitudinal Education Outcomes (LEO) dataset, Department for Education, 2016.
The Right Combination, CBI, 2016.
The Graduate Market in 2018, High Fliers, 2018.
Ibid.
CBI, 2016.
House of Commons Committee of Public Accounts, 2018.
Building our Industrial Strategy, Department for Business, Energy & Industrial Strategy, 2017.
House of Commons Committee of Public Accounts, 2018.
Ibid.
Graduate Outcomes survey, HESA.
Thank you for your feedback