Humanities subjects are non-vocational, allowing graduates to develop a flexible skillset and enter a range of sectors
Subjects studied
English
History
Languages
Philosophy
Number of humanities graduates
There is concern that a focus on STEM from the UK government and its industrial strategy may come at the detriment of other subject areas.1 There is certainly a decline in the uptake of humanities subjects and opportunities to study them.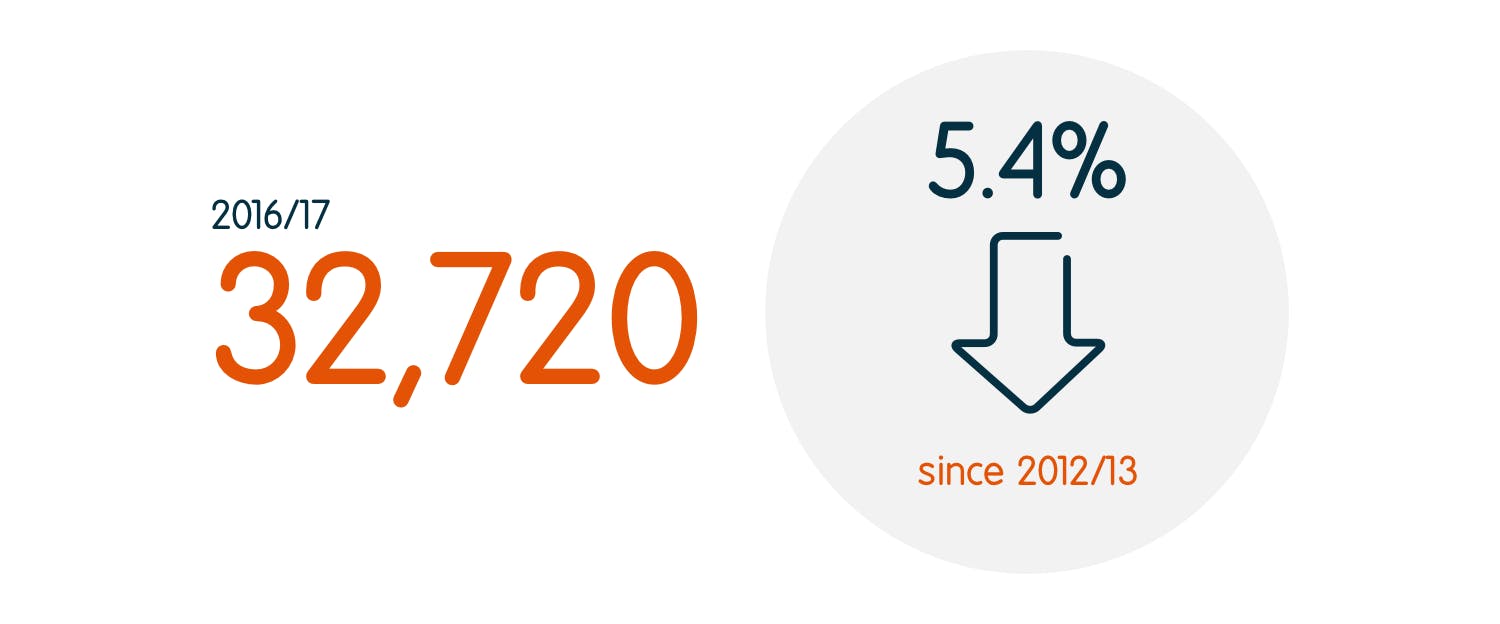 The British Academy for the humanities and social sciences notes that between 2007 and 2017 at least ten modern language departments were closed at UK higher education institutions.2
Gender
The humanities are dominated by female graduates. Across all the subject areas, female respondents outnumbered males, particularly in English (76% female) and languages (69% female).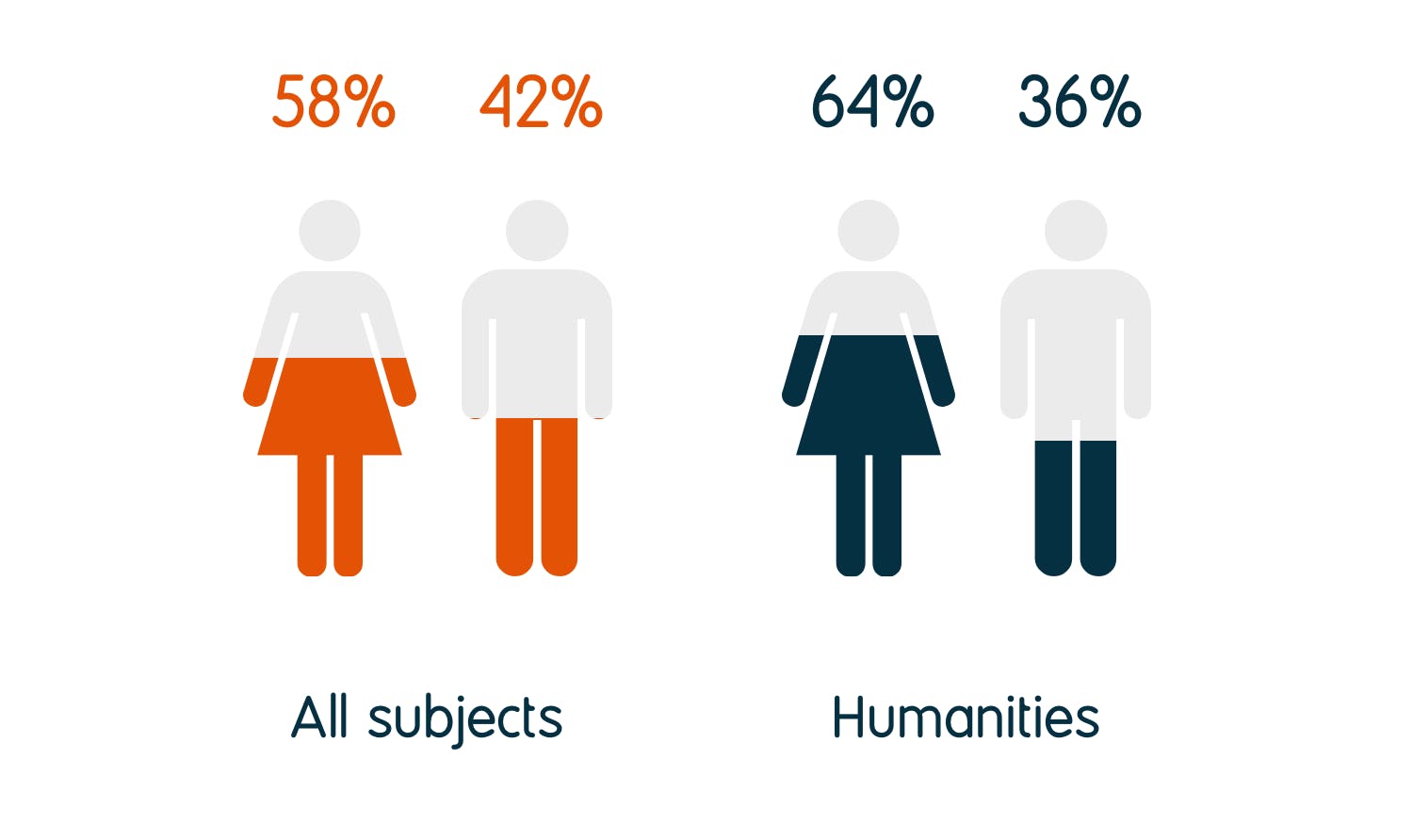 This reflects higher education as a whole, where female students are over-represented. The Guardian reported that 2016 UCAS figures show that women outnumber men in 112 of 180 degree subjects.3
It's unclear why humanities subjects are favoured by female students, although this may be due to stereotypes surrounding subject areas. It is interesting to note that there are very few initiatives to encourage males to study these subjects. On the other hand, initiatives such as Women Into Science and Engineering (WISE) seek to encourage females into areas where they are underrepresented.
Employment rate
Humanities graduates are less likely than graduates as a whole to be working either full or part time, according to the 2016/17 Destinations of Leavers from Higher Education (DLHE) data.
The proportion of those in work, including those who are also studying, ranges from 60.6% of history graduates to 67.4% of languages graduates, compared to 74.3% of all graduates. This lower proportion is mostly due to the large percentage undertaking further study.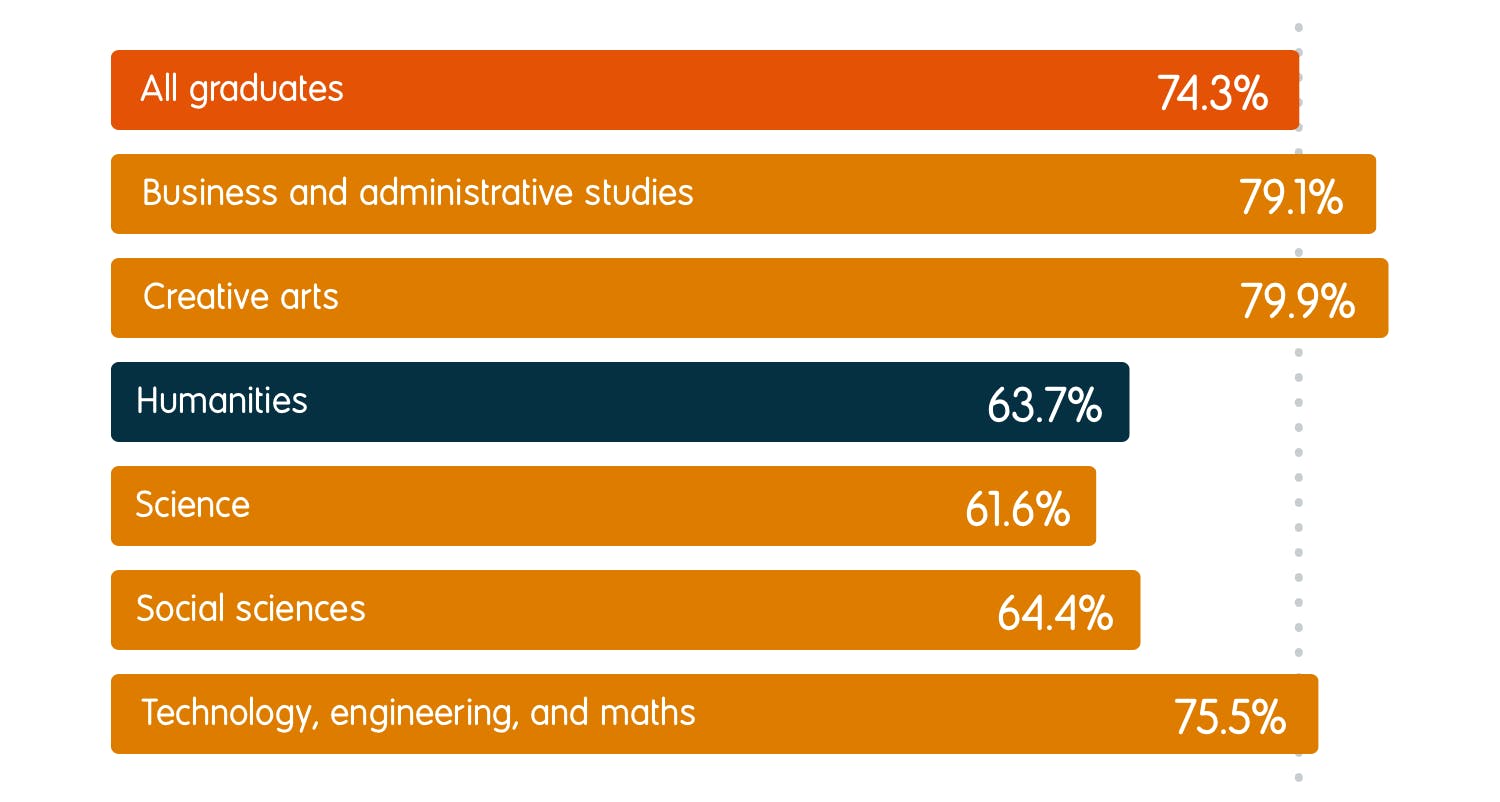 Top five occupations
Retail, catering, and bar staff
Marketing, PR, and sales (most common for languages graduates, at 18.3%, but also significant for philosophy graduates at 15.2%)
Business, HR, and finance (most common for philosophy graduates, at 18.9%)
Numerical, clerical, and secretarial work
Education professionals
For English and history graduates, the largest proportion of graduates were working as retail, catering, waiting, and bar staff (19.2% and 18.5% respectively).
Being employed in these occupations six months after graduation indicates that many of these graduates are working in non-graduate-level roles, particularly as the most common occupation for both subject areas is as sales and retail assistants (9.4% for English and 8.4% for history).
Small-scale studies of humanities graduates suggest that graduates from non-vocational courses may take longer to progress into graduate-level jobs than students from more vocationally focused disciplines, as they may spend more time exploring the great variety of possibilities open to them.4
This range of possibilities is also demonstrated by the fact that humanities graduates are employed across all occupational areas.
Long-term employment destinations
Reliance on first destinations data such as DLHE does not always reflect occupational areas across a graduate's whole life course. Research by the University of Oxford showed:
only 33% of (humanities) graduates in the sample remained in the sector of their first occupation
28% made major career changes, moving between employment sectors after their careers were well-established
a further 8% maintained dual careers over an extended period.

5
We cannot assume from the data that business, HR and finance, and marketing, PR and sales will employ large proportions of humanities graduates in the longer term. This may also demonstrate the flexibility of the skillset that graduates have gained through their degrees.
Average starting salaries
The average regional starting salaries for humanities graduates vary by discipline. The lowest was recorded for English graduates (£16,600-£21,700) and highest for philosophy graduates (£17,300-£25,000). Average starting salaries for those studying English and languages was below the overall figure for graduates.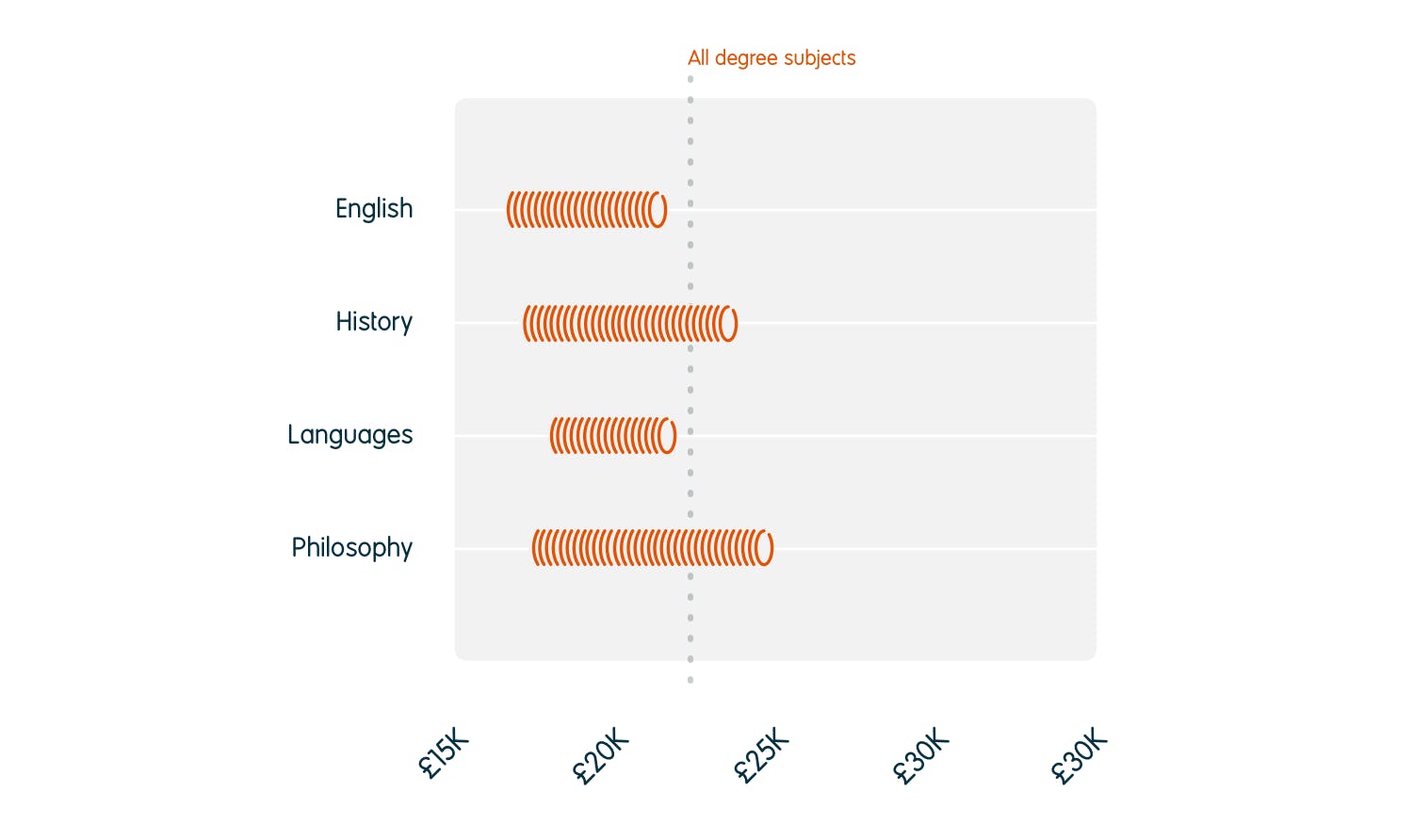 Working abroad
Humanities graduates were slightly more likely than all graduates to be working overseas after graduation. This was particularly true of languages graduates, where 9.1% were working overseas, compared with 1.8% of all graduates, suggesting they were making the most of the language skills gained during their studies.
Unemployment rate
Humanities graduates were slightly more likely to be unemployed when compared to the overall rate for graduates (5.1%). There has been a downward trend for English, history and languages in unemployment rates over the last three years, with English, for example, dropping from 6.6% in 2013/14 to 5.4% in 2016/17.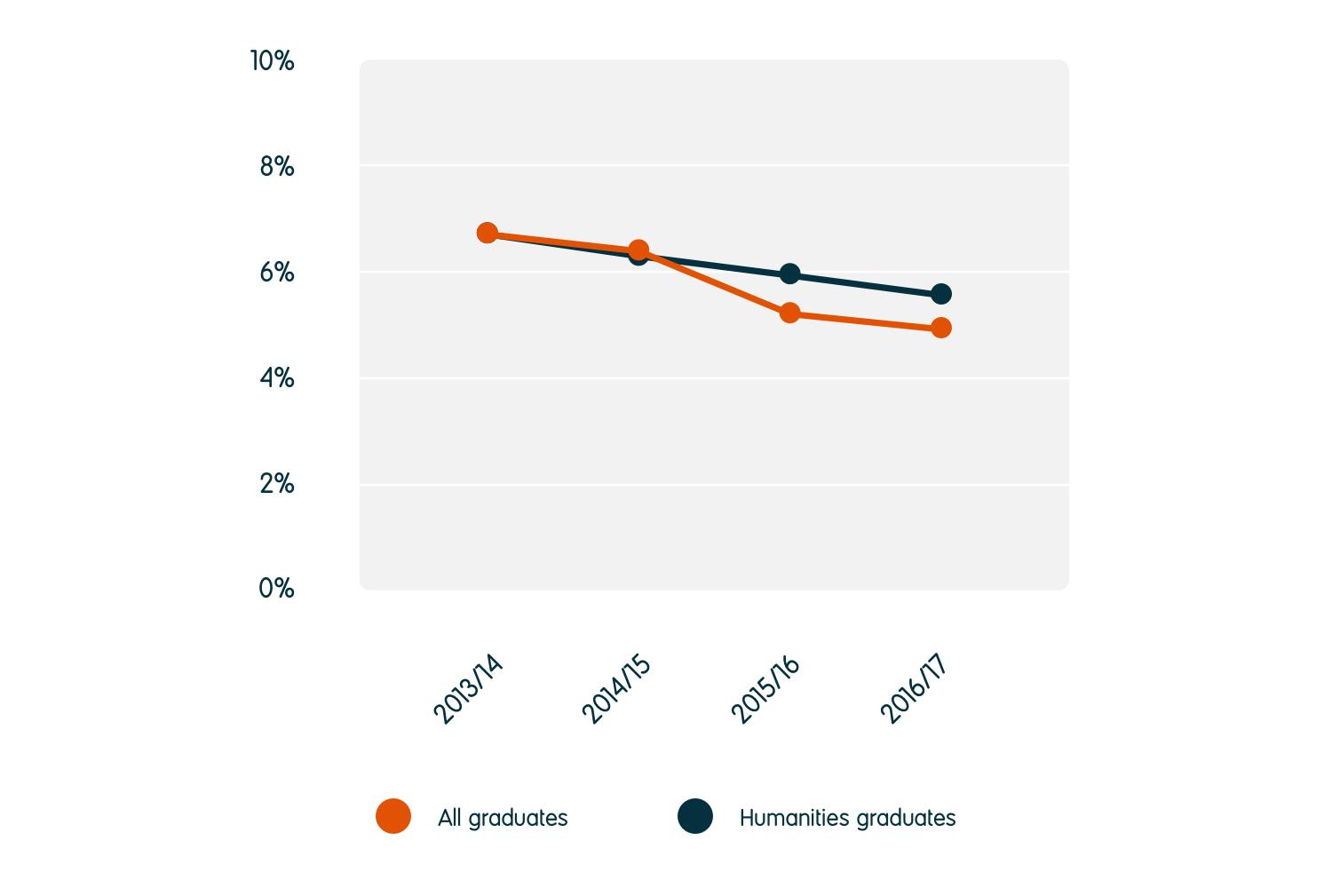 Further study
Humanities graduates are much more likely than graduates of other subjects to be in further study. While 16.1% of graduates were in further study overall, rates for humanities graduates ranged from 21% for languages graduates to 27.5% of history graduates.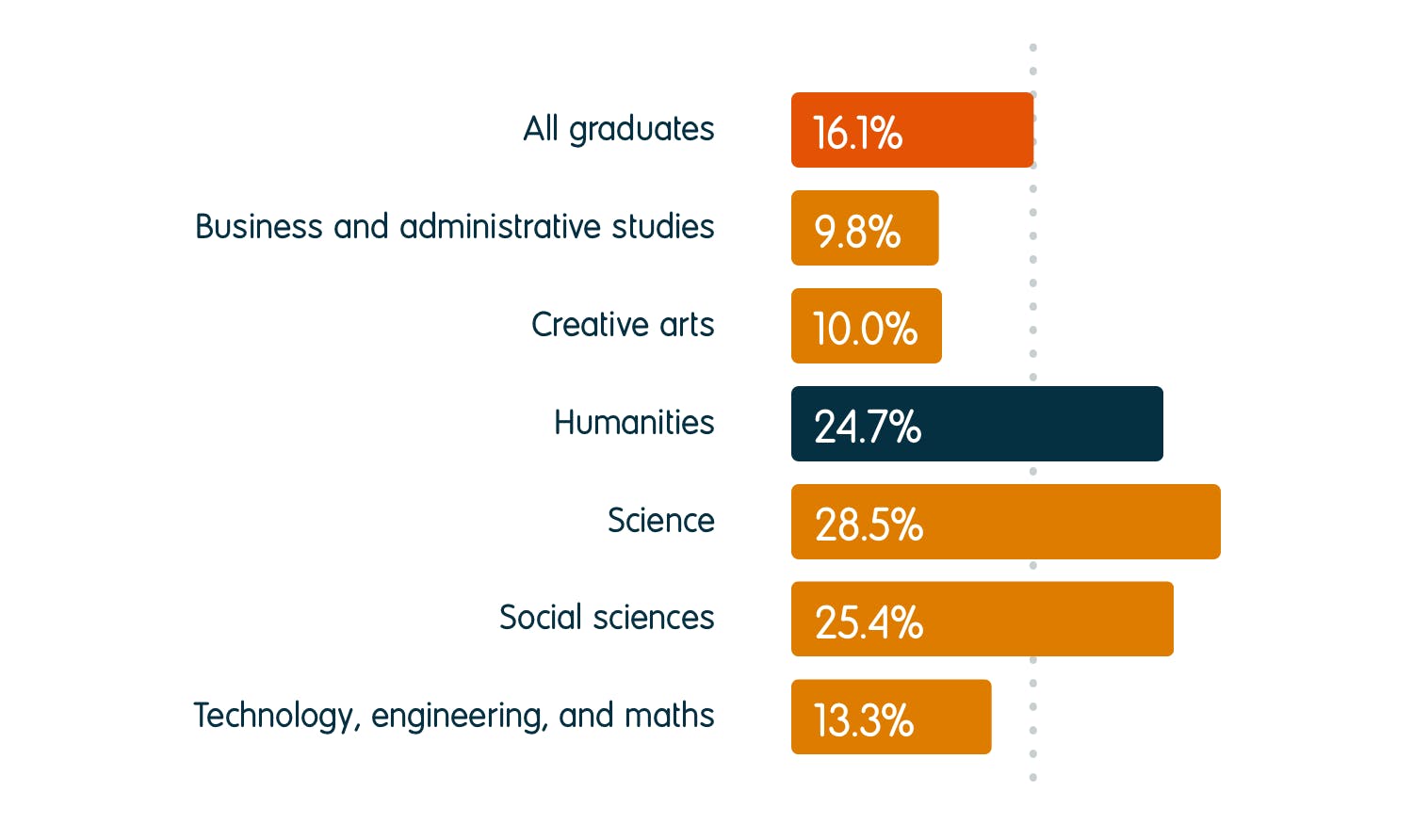 Given the non-vocational nature of these subjects, many graduates may go on to further study to explore or specialise further, or to undertake professional or vocational qualifications.
This can be seen in the proportion of those English and languages graduates in further study who were studying postgraduate qualifications in education (28% and 22.9% respectively, compared to 14.7% of all graduates). This may reflect the fact that teaching is one area where the language skills gained from these subject areas are directly applicable.
Other examples of professional qualifications undertaken are in areas such as:
law
accounting
journalism
teaching English as a foreign language.
Even for those graduates studying at Masters level, many were undertaking courses with a more vocational focus, such as public policy, marketing, and management. However, we can also clearly see evidence of graduates continuing with further academic study, in fields such as criminology, classics and ancient literature.
Value to the labour market
Some analysis of employability profiles of various subjects, although developed some time ago, showed that attributes such as adaptability, creativity, decisiveness, initiative, leadership and tolerance of stress are emphasised more strongly in philosophy than physics, maths or engineering.6
Humanities graduates are also uniquely equipped to grasp the opportunities of globalisation, through studying other cultures (for example, in languages and history) and exploring other perspectives (in English and philosophy). In addition, the emphasis on ethics in philosophy curricula leaves graduates well placed to tackle contemporary issues and challenges such as corporate social responsibility and sustainability.7
There is scope for universities to consider how they can support the employability of their humanities students in-curriculum. This is undoubtedly a challenge given the lack of vocational focus of many programmes, where students may need support to narrow down their considerable options, as well as to clearly articulate to employers the value of their degrees in the contemporary world.
This could perhaps be achieved by focusing on global challenges and how the humanities can tackle these. This renewed focus may lead to a resurgence in interest in the humanities, so graduates can continue to make a positive contribution to the economy.
Get an accessible version of the infographic data (PDF, 298KB).
Also in this series
Notes
In November 2017, the UK government launched its new Industrial Strategy, which revealed a focus on technical education alongside higher education. This also included an investment of £406million to support maths, digital and technical education, to address the shortage of science, technology, engineering and maths (STEM) skills, building on previous strategies and initiatives in this area.
Review of post-18 education and funding: call for evidence, British Academy for the humanities and social sciences, 2018.
Gender gap in UK degree subjects doubles in eight years, UCAS study finds, The Guardian, 2016.
Humanities Graduates and the British Economy: The Hidden Impact, University of Oxford, 2013.
Ibid.
Student employability profiles: a guide for higher education practitioners, Council for Industry and Higher Education, 2005.
What is the value of a humanities degree?, HECSU, 2010.
Thank you for your feedback