Charlie Ball's regular summary of data and reports from the labour market, brought to you by Prospects Luminate and Jisc Data Analytics
Student Services at Jisc released results from our student survey. There's also a piece on it by me at WonkHE.
Nearly a third of university students said they had changed their career plans as a result of the pandemic.
University and college students are increasingly focused on training and development as a priority when looking for a job, ranking it above salary.
The biggest barrier for university students when searching for a job is having the required work experience.
A quarter of students interested in apprenticeships are struggling to find suitable opportunities in their area.
45% of university students and 36% of college/sixth form students feel unprepared for work.
A quarter of university students are considering postgraduate study but costs and funding are major concerns.
The latest round of the ONS fast response experimental statistics on the impact of COVID were released on the 1st July.
6% of the UK workforce were furloughed last week - this is approximately 1.5 million people.
23% of the workforce worked solely from home last week.
In the last two weeks, currently trading businesses reported that 11% of their workforce have moved from furlough or fully homeworking to a hybrid model of working (this is the first time this question has been asked).
The volume of UK online job adverts on 18 June 2021 was at 129% of its February 2020 average level, with all major graduate employment sectors except oil and gas and law running at or above February 2020 levels (both were over 90%).
In the week to 19 June 2021, UK retail footfall was at 77% of its level in the equivalent week of 2019.
Accompanying this release was data from the bi-weekly Business Insights and Conditions Survey (BICS)
The percentage of businesses currently trading stood at 88% in late June 2021.
The percentage of currently trading businesses that reported turnover was lower than normal was 30% in early June 2021.
The transportation and storage industry had the lowest percentage of businesses currently trading in late June 2021, at 76%.
Switching to LED bulbs is the most reported action that businesses not permanently stopped trading have taken, and intend to take, to reduce carbon emissions.
There is also some new data examining business intention to take up hybrid working. 26% expect to use hybrid working in the future, 49% do not and the rest are unsure.
A breakdown by industry is shown below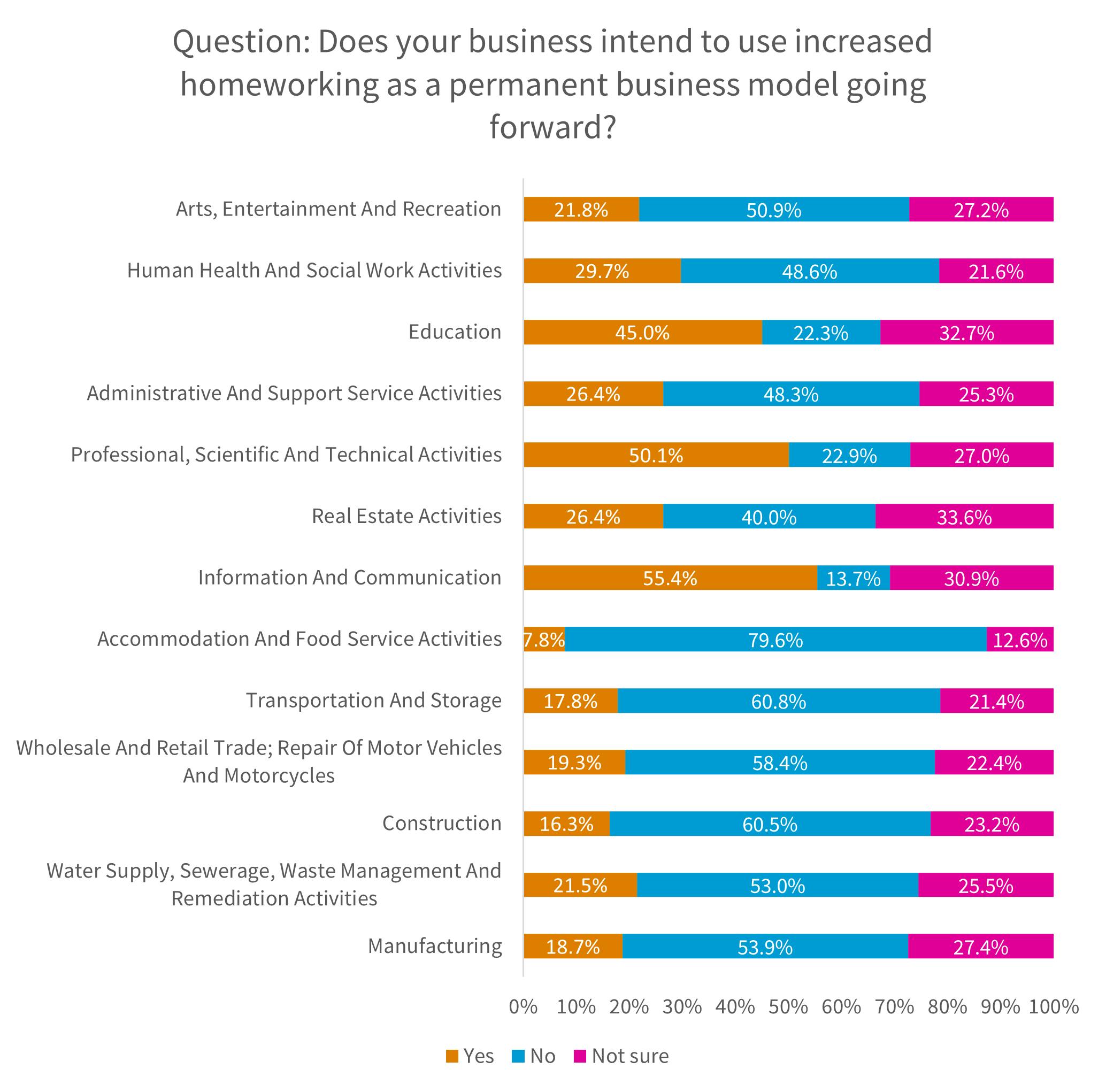 The Department for Education have updated their directory of Skills Advisory Panels and local skills reports.
The Recruitment and Employment Confederation (REC) and EMSI have issued the monthly Jobs Recovery Tracker
In the week of 21-27 June, there were a total of 1.55 million active job adverts in the UK.
With 192,000 new job postings in the same week, employers demand remains buoyant and at a level higher than before the onset of lockdown in March 2020.
Higher demand for roles in education sector, as well as more adverts for professional and skilled occupations at the end of June.
The furlough scheme has kept unemployment from rising sharply during the pandemic.
The Institute for Fiscal Studies have published a book chapter looking at the labour market during the pandemic.
Although there were large rises in the proportion of people not working at least one hour a week in 2020, there was very little rise in unemployment and economic inactivity (where people have no job at all). The furlough scheme has kept unemployment from rising sharply during the pandemic.
Despite the large falls in the number of people working at least an hour a week, the number of households where no one was working has risen only modestly. This is particularly important for 19- to 24-year-olds, many of whom live with their parents.
Average earnings growth during the pandemic has tended to be stronger for public sector workers and for workers with lower levels of education, the latter perhaps in part due to a significant rise in the National Living Wage in 2020.
Those with degrees did not see an increase in the fraction not working any hours compared with Q4 2019. Overall, the share of 19-to 64-year-old adults who did not work any hours in the last week rose by 4 percentage points over the course of the pandemic, from 30% in Q4 2019 to 34% in Q1 2021. Men saw a larger increase (5ppts) than women (3ppts). The increase was driven by those with at most A-levels (7ppts) and GCSEs (8ppts).
There were two important reports from the Institute of Employment Studies this week. The first examines Adzuna job data (the same job data used in the weekly ONS bulletins) in depth.
It appears likely that next month will see the ONS Vacancy Survey reporting the highest single-month vacancy figures since the series began in 2001.
This recovery is being driven by new job adverts - with nearly 350 thousand new vacancies in the last week alone - and appears to reflect both 'structural' changes with the pandemic (with strong demand in IT, warehousing/ logistics and public services) as well as a 'cyclical' recovery in industries like construction, hospitality and manufacturing.
Nearly one third of all vacancies are in IT, construction/ trades or warehousing/ logistics (330 thousand in total). Many of these are graduate level. Both before and since the crisis, IT jobs have accounted for the highest number of vacancies - 11.9% of all job postings. These have risen by one third on pre-crisis levels.
There are nearly 130 thousand vacancies in healthcare, nursing and social work, most at graduate level.
Nearly 75 thousand in both hospitality and sales.
This fairly broad-based recovery across industries has also fed through into generally larger rises in vacancies in regions and areas where demand was previously lower. Vacancies are up by between two-fifths and two-thirds across the Midlands, north of England and Wales, while they have risen less strongly in southern England and have fallen in London. Scotland and Northern Ireland are also faring relatively less well.
However it remains the case that vacancies are higher in London and southern England than in the north of England and the other nations - with three or more vacancies per hundred people of working age in London, southern and eastern England, compared with fewer than two in the North East of England, Wales, Scotland and Northern Ireland.
In around a quarter of local areas, there are five or more claimant unemployed for each job opening, and in 21 local areas there are more than ten. London in particular (especially central, north and East London), as well as coastal areas of England, have seen noticeable increases in the numbers of claimant unemployed for each vacancy.
52% of HE institutions had a dedicated strategy for student mental health and/or wellbeing
The second looks at how institutions support student mental health and wellbeing.
47% of HE institutions had a working definition of 'mental health' and 'wellbeing' that they used. These institutions either used definitions from health or sector bodies (e.g. the World Health Organisation, Student Minds), or developed their own working definitions.
52% of HE institutions had a dedicated strategy for student mental health and/or wellbeing, 6% covered these in a wider strategy, and, although 33% had no strategy at the time of the survey, 25% were planning one. 
Where HE institutions had a strategy(ies): 67% had a separate strategy rather than individual policies and procedures; and in 62% of cases this covered both students and staff.
Strategies tended to include: an understanding of the context, ambitions (goals, areas of activity, channels of support, roles and responsibilities), how it relates to what else the provider does or is happening in the sector, and how they will review and monitor progress.
93% of HE institutions (and more than three quarters of other providers) consulted with their students over how to better support their mental health and wellbeing.
(96% of HE institutions reported that resources to support student mental health had increased over the past five years. Similarly, resources to support student wellbeing had increased for the majority (86%). Despite many providers having access to increased resource they may still struggle to meet the demand for support.
More from the Resolution Foundation, as they release their Living Standards Audit.
Despite strong income growth in 2019-20, the picture for incomes in the 2010s was one of very weak growth and rising child poverty to 31%.
Median incomes grew by 1.5% in 2020-21, reflecting higher earnings and a better recovery than previously expected.
Of those who were furloughed in February this year, 78% were doing some form of work by May.
Older furloughed workers were less likely to have returned to work during the crisis than younger furloughed workers: with 26% of workers aged 55+ workers that were furloughed in April 2020 were still on full furlough in May 2021.
62% of those still fully furloughed have been out of work for at least six months.
Income and spending pressures throughout the crisis have led to increasing levels of debt for 13% of individuals - rising to 21% for those in the second lowest income quintile.
The Foundation have also issued a report, 'Out of the Woods', looking at young people's mental health and labour market status as the economy reopens.
The proportion of young people who were unemployed or furloughed has fallen since the full lockdown in Spring 2020, from a peak of one-in-three in May 2020 (compared to 20% or less in older people) to around one-in-six (16%) by September 2020. This rose again during the 2021 lockdown in January, to just below one-in-five, but fell back quickly once restrictions were eased during April.
Those aged 18-24 were two-and-a-half times more likely to be out of work than older people (16% vs 6%) in May 2021.
Students are more likely than others to say their mental health is poor. 28% of young people who are out of work and 27% on the lowest pay say their mental health is poor, compared to 17% of those in atypical work, 13% of those in more stable forms of employment and 10% of young people on higher pay. Those struggling to pay their everyday living costs - pay their bills, turn on their heating or eat at least one filling meal a day - are almost twice as likely to say their mental health is poor than those who are not facing financial difficulties (33% vs 19%).
Across those who are in the same employment circumstances as before the crisis, young people are, less likely to report poor mental health (13%) than slightly older adults aged 25-44. But of those who were previously employed before the crisis and are now currently out of work, fully furloughed or on reduced pay, the young are much more likely than their older peers to report poor mental health; almost one-in-three 18-24-year-olds in this position report poor mental health compared to between 13% and 25% of older people.
The CIPD have been looking at inequalities in opportunities to take up virtual working.
Workers in South East England have the best flexible working options, followed by the East of England, while workers in the Yorkshire and Humber are least likely to have flexibility in their role.
In regions where employees report better flexibility in hours, they tend to have less flexibility over where they work (the North East comes out top for flexible hours, but bottom for flexibility of location).
Regions with greater flexibility in terms of where employees work have the opposite problem, with less use of flexible hours and informal flexibility (Londoners have the best flexibility around where they work, but many don't have flexibility in their hours or informal flexibility with their employer).
Thank you for your feedback