Tristram Hooley, chief research officer at the ISE, provides an insight into graduate employers' current views on the diversity of workforces and what they're doing to address the issue
In their brilliant analysis of the elite graduate labour market, The Class Ceiling, Sam Friedman and Daniel Laurison show that organisations use a wide variety of strategies to ensure that only 'people like us' join, survive and thrive within the organisation.1
For the most part these strategies are unconscious and unnoticed. No one sits down and says 'we should only recruit white, public school boys', but all sorts of unconscious bias, in-group mentalities, codes about how to dress or use a knife and fork, and sponsorship (or lack of it) conspire to produce organisations full of similar kinds of advantaged people.
As a British person I'm pretty used to wringing my hands about the class system and arguing that we need to do something about the way in which it structures access to educational and employment opportunities.
Increasingly we are recognising that class is just one of the things that structures inequality, with gender, ethnicity, sexuality and disability also making a difference. These different factors intersect with each other, often multiplying the disadvantages that some people experience. The consequences of this are that organisations often end up seeking to recruit the same kinds of people (which reduces the breadth of candidates) and employing them (which results in organisations full of people who think the same and who don't represent the communities within which that organisation is active).
This is a big problem, and one that is not very easy to solve, particularly during a period when political leadership is in short supply.
Most employers freely admit that their organisations are not as diverse as they would like
Is diversity a priority for graduate employers?
The Institute of Student Employers (ISE) has just published its annual student recruitment research on the student labour market.2 Inside Student Recruitment 2019 shows that employers are increasing the volume of graduate recruitment, but that they are still reporting a variety of issues with the diversity of their organisations.
Employers report that their typical staffing under-represents women and those who attended a state school, and that it massively under-represents the number of people with disabilities. There is some good news on LGBTQ+ and ethnicity, but most employers freely admit that their organisations are not as diverse as they would like.
Thankfully employers are attempting to do something about diversity. We asked them which of these diversity strands they were prioritising trying to do something about in their recruitment.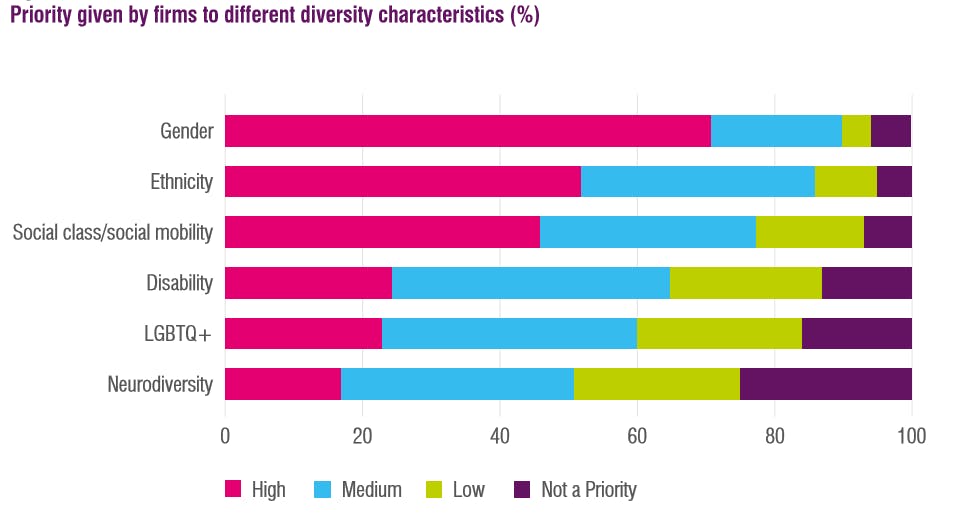 What is most striking is the fact that employers are giving a high or medium level of priority to pretty much all of the diversity strands. While firms have the clearest priority on gender and ethnicity, there is a growing realisation that there is a need for action on other diversity strands. There is a lot of enthusiasm about trying to change the composition of staffing in the kinds of large firms that are active in the graduate market.
Firms gave a wide range of reasons for focusing on diversity. As one respondent wrote, their firm was focusing on diversity 'because it's the right thing to do with multiple benefits to all'. The strongest rationales that were driving the focus on diversity were the desire to secure the best talent (76%) and access new pools of talent (61%) as well as a desire to represent the diversity of the customers that the firm was dealing with (54%).
What are employers doing to make a change?
Firms also revealed quite a lot of detail about their strategies to try and address diversity. The next figure sets out the top ten most common strategies cited.
 ,% of firms adopting this approach to increasing diversity
University blind recruitment,17
Name blind recruitment,19
Removing minimum entry requirements,22
Worked with advocacy groups,23
Ran outreach events,27
Targetted social media advertising,30
Ensuring diverse campus representatives,34
Changing the universities that they visited,38
Producing tailored marketing for different groups,45
Diversity training for staff,46

While there is clearly more to do here, the research suggests that firms are taking diversity seriously and following their strategic priorities through with actual changes to their practice. It also suggests that employers have a range of good ideas about what might actually make a difference - although, at present, robust evaluation of the impact of these different strategies is still wanting.
Ensuring diversity in the workforce is a conversation that needs to involve educators just as much as employers
What next?
The focus on diversity within graduate recruiters has grown since last year. These issues are growing in importance within firms and this prioritisation seems to be being backed up with real action. A key question is what long term impact these strategies will have.
Firstly, we still lack evidence on the efficacy of the different approaches that are being used. For example, we know that firms have been reviewing their marketing materials and targeting unrepresented groups. But, does this actually result in more applications?
Secondly, there are important questions about how far employers can be expected to compensate for wider structural inequalities that have been reinforced by the education system.
Given this, important next steps will be to find ways to establish greater confidence about the approaches used and to broaden the conversation out. Ensuring diversity in the workforce is a conversation that needs to involve educators just as much as employers.
There is a need for educators and employers to both take action and to challenge the government to do more about wider and more structural forms of inequality.
The views and opinions expressed in this article are those of the author(s) and do not necessarily reflect the position of HECSU/Prospects
Notes
Friedman, S. & Laurison, D. (2020). The class ceiling: Why it pays to be privileged. Bristol: The Policy Press.
Institute of Student Employers. (2019). Inside student recruitment 2019: Findings of the ISE recruitment survey. London: ISE.
Thank you for your feedback