The annual recruitment survey from the Institute of Student Employers (ISE) shows that the employment market is recovering after the pandemic. But it also shows that recruiters may never return to their pre-pandemic approaches, writes Tristram Hooley
The pandemic hit graduate recruitment like a juggernaut. In March 2020 recruiters realised that despite years of investment in digital technologies, most of the key points in the recruitment process required face-to-face meetings. Whether it was careers fairs, insight days, internships, assessment centres or final interviews, everyone relied heavily on physical meetings.
The challenges to the recruitment process necessitated by lockdown and social distancing were exacerbated by the wider labour market shocks. Were organisations even going to need graduates in a year when existing staff were being furloughed and the future was so uncertain? Yet, as we wrote on Luminate at the time, by May things were looking up, organisations were figuring out how to recruit online and while graduate recruitment numbers were down, they were not collapsing.
Back on the up
This year's ISE Student Recruitment survey shows that during the 2020/2021 cycle employers increased their hiring of graduates as well as internships and placement students. At the moment employers are still recruiting slightly less than they did pre-pandemic, but the future looks bright. Most are anticipating further increases in hiring over the next year.
Recruitment growth and forecasts for next year (% change from pre-pandemic year of 2018/2019)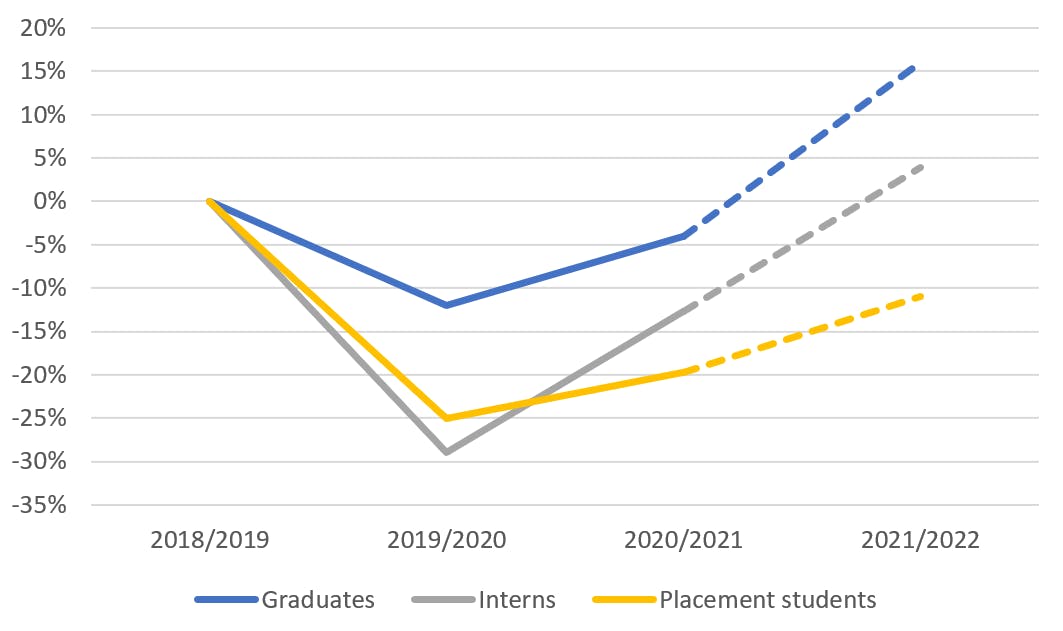 If things go as planned during the 2021/2022 cycle we anticipate that graduate recruiters will exceed pre-pandemic levels of hiring for graduates and interns. Placement students numbers are also recovering but look like they may need another year or two to recover to pre-pandemic levels.
This doesn't mean that everything is plain sailing for next year's graduates: 2020/2021 proved to be the most competitive recruitment cycle ever with employers registering an average of 91 applications for every vacancy. But, it is important to remind students that this isn't just a numbers game - quality applications trump a high quantity every time.
A paradigm change in recruitment
The volume of recruitment is recovering well and should give graduates some cause for cautious optimism. However, graduate recruitment looks very different as it emerges from the pandemic. Employers report that they have shifted their student attraction, recruitment and selection activities online. Almost all (93%) described their currently recruitment approach as being mainly online. What is more almost half (48%) of the respondents expected that their recruitment would continue to be mainly virtual over the next five years and that they would increasingly automate the process of student recruitment.
What began in May 2020 as an expedient shift to virtual recruitment is increasingly becoming bedded in as a new normal.
It should be remembered that employers are now entering their third virtual recruitment cycle (2019/2020, 2020/2021, 2021/2022). What began in May 2020 as an expedient shift to virtual recruitment is increasingly becoming bedded in as a new normal. While there are some employers who are keen to return to face-to-face recruitment, the longer the current situation continues, the less likely a full return to the world of careers fairs and assessment centres in hotels seems. Perhaps even more significant to the future of student employment, we are seeing some employers onboarding and employing student hires remotely.
A smaller proportion (20%) anticipated that an increasing number of their entry-level staff would be based at home. Most are currently delivering internships and placements online and while they are generally hoping to move to a hybrid or blended approach next year, relatively few are thinking about a full return to face to face.
A minority of organisations (13%) reported that they do not require student hires to live where they work and almost a quarter (24%) that they are now recruiting student hires who will be mainly based from home. While we should be careful not to overstate the importance of this shift, as place remains important for most employers, it does provide a glimpse into what a remove working future might look like.
Final thoughts
Graduate recruitment is important to a large number of employers. For ISE members and other large companies like them, graduates continue to be one of the main sources of new talent. Despite some wobbles this remained true throughout the pandemic and employers have redoubled their interest in graduates as the economy recovers.
However, the pandemic has resulted in a signification shift in the way in which graduate recruitment works. The dust is still settling, but it would not be a surprise if graduate recruitment transformed permanently into a more digital and remote working paradigm.
Thank you for your feedback